In this article, we will go over the ultimate guide to writing an attention-grabbing CV that will land you the job.
How to write a Business Analyst CV
A business analyst understands how to document and assess an organization's needs. A business analyst CV is a brief, but important document that is used in conjunction with cover letters to apply for positions ranging from entry-level business analyst to senior business analyst at the beginning of the hiring process. Hence as a business analyst, your resume must explain why you are the best candidate for a specific business analyst job. It is an important part of the job search process that shows you understand the business analyst role description, so before applying for a job ensure you read the Business Analyst job description to know what you should emphasize more on. This way you can tailor your CV to highlight your most relevant accomplishments and skills to fit the job description.
Here are some things to put into consideration to write a business analyst resume;
Examine the job description: Business analyst role descriptions include the key skills and qualifications that the company seeks. Those are the items you'll want to highlight on your resume, so read them and circle them if necessary. Because some companies have applicant tracking systems ats that they use as resume scanners for initial screening, include the keywords from the job posting in your resume.
Learn about the company: Learn about the business, its pain points, and business requirements. Show on your resume that you have the necessary hard skills to assist them in resolving their problems and challenges.
Make a list of your accomplishments: Make a detailed list of all your business analytics successes and failures. This document is also referred to as a master resume. It'll assist you throughout the job application process. Refer to the list as you begin writing your resume and select the items that are most relevant to the position.
Business analyst CV format
If you're looking to write a business analyst resume, you will likely encounter terms like CV format and CV layout. There is no need to be concerned if you have never heard of these terms or aren't sure what they mean. The term 'CV format' refers to the blueprint for your CV. We have two resume formats:
Reverse chronological or classic resume format: This CV format is used to highlight impressive career paths and promotions.
Skills-based or functional resume format: This is a combination of the classic and functional format emphasis on skill. It is advantageous for experienced professionals because the recruiter will not be able to tell whether an accomplishment occurred two years or nine years ago.
The 'CV layout' refers to how you organize and present information within the CV format. A good business resume format should portray the right elements to provide the hiring manager with a pleasant reading experience. That could be a modern layout with a colored margin for your details and key skills, or it could be a traditional layout. If you wish to see a practical business analyst CV format, keep reading you'll see it in the course of this article.
The content on your Business Analyst CV
Tip to follow when writing your business analyst resume for business analyst jobs, follow these best practices.
Make it unique to each company:Each company will have slightly different requirements for Business Analyst skills and knowledge. Create a resume that is tailored to the needs of the company you are applying for.
You should limit yourself to a page or two: Concentrate on your most relevant experiences and abilities in a way that includes all your business analyst roles responsibilities.
Structure your content: Utilize a lot of whitespaces, nice font, bullet points, engaging intro paragraph, and head tags to make your content readable and easy to skim.
Make use of action verbs:Start your descriptions of your responsibilities and accomplishments with powerful action verbs like launch, expand, facilitate, reduce, and lead.
Compile the data: A business analyst is a data management expert, so it is a great way to demonstrate your business analyst skill.
Concentrate on your accomplishments:Your resume is not a list of your previous job roles but a summary of your achievements. Companies want business analysts who can produce results, so quantify your impact whenever possible.
Edit and improve:Request that a trusted friend or colleague proofread your resume. Remember to double-check the spelling, grammar, and typos before sending it.
Business Analyst CV Example
Below you can find and download a business analyst CV example, which you can follow as a guide when applying for business analyst positions.
Download Business Analyst CV example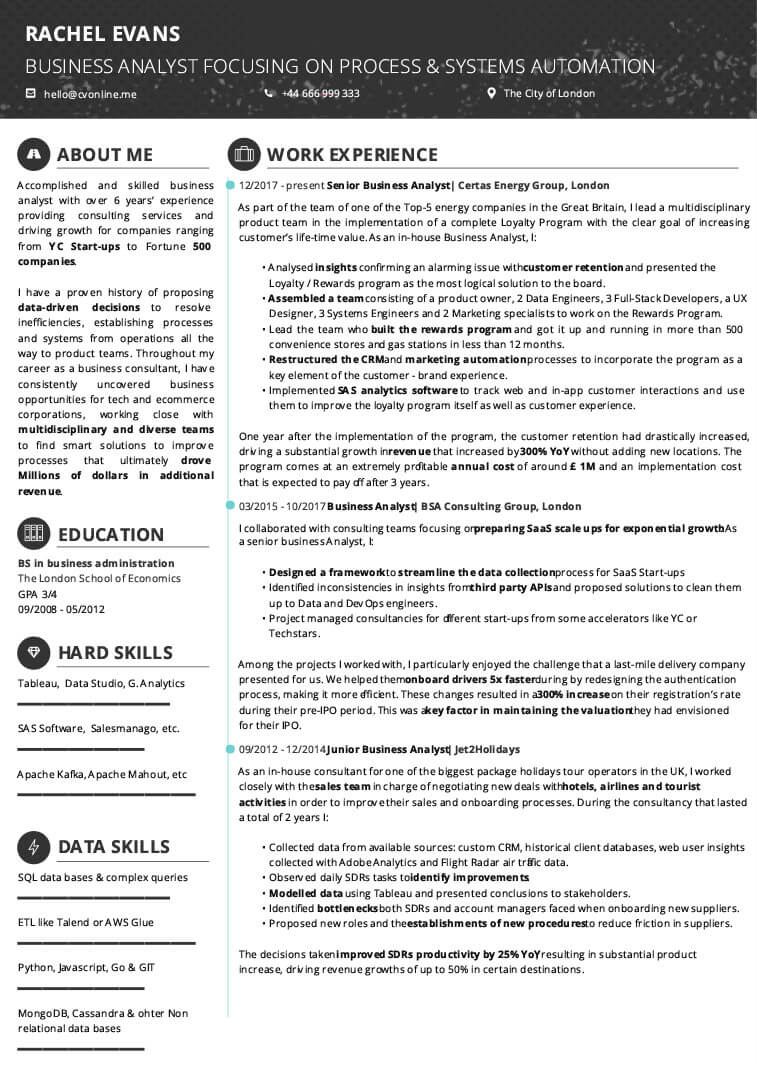 Business Analyst CV Structure
In order to get the job, you will have to submit a CV (a résumé) and an analyst cover letter. The cover letter should focus on why you are applying for the position. The CV should be tailored specifically to the needs of each company you're applying to, and as earlier stated it should include your educational history, work experience, skills, and achievements. Below, we will go over the most important aspects of a business analyst resume that accomplishes the stated goal whether it is for an entry level business analyst or senior business analyst cv:
Business Analyst CV header
Your business analyst resume header is the first thing that the hiring managers see. It should be short, but it should also be memorable for an expert resume review. This is the first impression you make on them, so it's important that you use words and phrases that will stick in their minds. The key is to make it memorable so that the hiring manager can remember you as someone who has an interesting resume. Your business analyst cover letter and resume should be able to fit into different business analyst roles.
Your given name and surname
A CV Headline, also known as a one-liner, is a sentence that appears on a CV
A phone number or a contact number that works
A business email address
The geographical area in which you live or are looking for work
Here are some examples of good practices for writing a business analyst CV headline:
Junior business analyst with experience in large-scale SQL
Business Analyst with a passion for Internationalization
Business Analyst focusing on Process & Systems Automation
Business Analyst with 10 years of experience in Digital Transformation Projects
Agile business analyst expert in Organizational changes
Novice business analyst
BA
Senior Business Analyst
Consultant with business analyst skills
Agile business analyst
Business CV Analyst Personal Statement
The personal statement is used to introduce yourself and give readers an idea of who you are. It can be used as an opportunity to tell readers about yourself in more detail than just your professional experience, which would be covered in your resume. This can include things like why you became a business analyst and why you decided to apply for the job.
Business Analyst Personal Statement examples
Personal Statement
Accomplished and skilled business analyst with over 6 years of experience providing consulting services and driving growth for companies ranging from YC startups to Fortune 500 companies.
I have a proven history of proposing data-driven decisions to resolve inefficiencies, and establishing processes and systems from operations all the way to product teams. Throughout my career as a business consultant, I have consistently uncovered business opportunities for tech and e-commerce corporations, working close with multidisciplinary and diverse teams to find smart solutions to improve processes that ultimately drove Millions of dollars in additional revenue.
Personal Statement
I am a professional business analyst dedicated to providing the highest level of service in everything I do. Dedicated to ensuring customer satisfaction.
Business Analyst CV Work Experience Section
Here, you can demonstrate how you previously applied your skills by listing your most recent and related experiences. You want to concentrate on experiences and tasks related to business analysis.
List your most recent three or four experiences, focusing on those most relevant to the job. If you have a longer career, you don't need to list all of your work histories on your CV; instead, include a link to your Linkedin profile and your online CV with a call to action.
Also, on your CV, include a escription of each of your work experiences. Remember, this is the place to show off your business analyst skills while also mentioning your most notable accomplishments, backing them up with numbers whenever possible.
Here's an illustration:
Business Analyst Work Experience example
12/2017 - present
Senior Business Analyst | Certas Energy Group, London
As part of the team of one of the Top-5 energy companies in Great Britain, I lead a multidisciplinary product team in the implementation of a complete Loyalty Program with the clear goal of increasing customers' lifetime value. As an in-house Business Analyst, I:
Analysed insights confirming an alarming issue with customer retention and presented the Loyalty / Rewards program as the most logical solution to the board.
Assembled a team consisting of a product owner, 2 Data Engineers, 3 Full-Stack Developers, a UX Designer, 3 Systems Engineers, and 2 Marketing specialists to work on the Rewards Program.
Lead the team who built the rewards program and got it up and running in more than 500 convenience stores and gas stations in less than 12 months.
He restructured the CRM and marketing automation processes to incorporate the program as a critical element of the customer-brand experience.
Implemented SAS analytics software to track web and in-app customer interactions and use them to improve the loyalty program itself as well as the customer experience.
One year after the implementation of the program, customer retention drastically increased, driving substantial growth in revenue that increased by 300% YoY without adding new locations. The program comes at an extremely profitable annual cost of around £ 2M and an implementation cost that is expected to pay off after 3 years.
03/2015 - 10/2017
Business Analyst | BSA Consulting Group, London
I collaborated with consulting teams focusing on preparing SaaS scale-ups for exponential growth. As a senior business Analyst, I:
Designed a framework to streamline the data collection process for SaaS Start-ups
Identified inconsistencies in insights from third-party APIs and proposed solutions to clean them up to Data and DevOps engineers.
Project managed consultancies for different start-ups from some accelerators like YC or Techstars.
Among the projects I worked with, I particularly enjoyed the challenge that a last-mile delivery company presented for us. We helped them, onboard drivers, 5x faster by redesigning the authentication process, making it more efficient. These changes resulted in a 300% increase in their registration rate during their pre-IPO period. This was a key factor in maintaining the valuation they had envisioned for their IPO.
12/2017 - present
Senior Business Analyst | Certas Energy Group, London
03/2015 - 10/2017
Business Analyst | BSA Consulting Group, London
Bsc hons business management
Skills on a Business Analyst CV
Business analyst skills are extremely varied depending on the project size, and they can be applied to a variety of different positions based on the business processes. Note a technical business analyst is a good one and that should be the goal for all business analysts.
Analyst skills include:
Understanding the business goals of an organization, as well as the needs of its customers.
Developing 3D models to represent information about the organization's customers and products.
Using data visualization tools to create graphical representations of the data gathered from surveys and other sources.
Creating reports that represent the analysis of customer feedback metrics, sales trends, or other metrics for decision-making purposes.
Skills sections example:
HARD SKILLS
Agile Methodologies ●●●●●○
Data Modeling ●●●●●○
Python ●●●●○○
MySQL ●●●●●○
Power BI ●●●●●○
Big Query ●●●●●○
Tableau ●●●●●○
SOFT SKILLS
Communication skills

Briefly communicating complicated messages and stories is natural to me, this is probably why I studied a triple major in Philosophy, politics and economics, or I have been a tour guide.

Teamplayer

I grew up playing football at Hoërskool President High School team, and I continued playing in amateur university categories. This along with my family's example has shaped my team-playing skills. Every business works like a machine, if it isn't synchronized, the machine isn't efficient and is at risk to broke down at any time.

Working under preassure

Studying while working weekly 30h shifts has taught me to balance and optimize resources, making me comfortable with deadlines and periods of intensive work loads.
SKILLS
Communication skills ●●●●●○
Teamplayer ●●●●●○
Working under preassure ●●●●●○
Complaint de-escalation ●●●●●○
Agile Methodologies ●●●●●○
Data Modeling ●●●●●○
Python ●●●●○○
MySQL ●●●●●○
Power BI ●●●●●○
Big Query ●●●●●○
Tableau ●●●●●○
The education section on your BA CV?
When it comes to any business analyst's technical skills are important, so your business analyst resume must include your formal educational section. It must be brief with a bachelor's or master's degree. However, it isn't necessary to include your high school degree. Each of the mentioned degrees should consist of the dates, the institution, and possibly the GPA or any outstanding thesis. Also, it's key to remember that you want to separate formal education and complementary education into two sections.
Education
09/2008 - 05/2012 | Bachelor science business administration The London School of Economics

GPA 3/4
Complementary Education
Software development life cycle - Harvard Online Courses
Agile Methodologies for your Business - Coursera
Advanced MySQL - 365 Data Science
Business intelligence analyst - Microsoft Certifications
G Big Query - Google Cloud Certifications
Data analysis with Python - Google Cloud Certifications
Education
09/2008 - 05/2012 | Bachelor science business administration The London School of Economics
Software development life cycle - Harvard Online Courses
Agile Methodologies for your Business - Coursera
Advanced MySQL - 365 Data Science
Business intelligence analyst - Microsoft Certifications
G Big Query - Google Cloud Certifications
Data analysis with Python - Google Cloud Certifications
Other relevant sections for a Business Analyst CV
Because each candidate has a unique story to tell, there is no one-size-fits-all set of sections. You should select a CV template that allows you to include as many sections as you need to properly tell your story and demonstrate your full potential as a business analyst. Sections that are particularly useful for candidates with little experience are:
Hobbies and interests
Business studies
Summary of Qualifications
Charities in the community
The only limitation to the number of sections on your CV is their relevance. Include a section to demonstrate your ability with specific skills (soft skills or/and hard skills) on your checklist if it makes sense. Add a section demonstrating your leadership abilities, or highlighting your work ethic, organization, and communication skills. Also, you can include a section with a couple of references with their names and positions, but don't include their contact information or email address on your CV, just a short message stating that you can provide them with references.
How to write a Business Analyst Intern CV without experience
As a business analyst intern seeking a business analyst position without much experience, you want to add any work experience you might have gained in the past (business environments) and emphasize the skills needed for the position you are applying for. However, if you don't have any work experience, you need to emphasize your soft skills over your hard skills in great detail.
A good way of showing that you understand this role on your junior business analyst cv is by explaining why these responsibilities are important for someone who wants to work in this field. You should also explain how these responsibilities tie into other roles such as project managers and marketers who need help understanding their own roles within organizations or business management.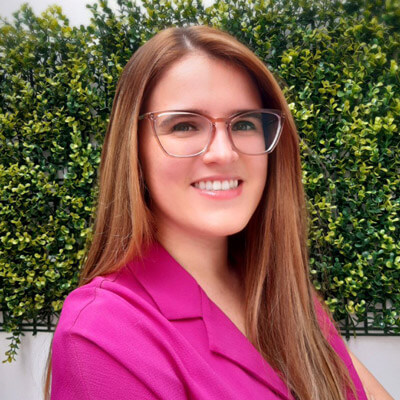 Coach & recruiter @kaelon.co and co-founder @cvonline.me