CV Templates are great, they help you writing a CV starting with some structure, coherence and style instead of having to face an empty canvas.
Picking a new CV Template is one of the crucial steps when making a CV. A good CV format has to meet the goal of presenting your contact details, skills, academic background and experiences in a way that helps the most important/impressive information to stand out.
A PDF CV template should be your preferred format on 99% of applications, but there are also additional formats that can help you make a better case for your application, like having a Web CV
Microsoft Word can always be a good ally to create your CV, however, never turn your CV on a Word document, unless you are asked to do so. Remember to always export it to a PDF. If Microsoft Word seems like to much work, which often is, you can always get the help of an online CV Maker, these are new softwares that have been designed to make the CV creation process smoother and download it as a PDF straight away from any modern browser.
Before choosing your template...
Evidently the most important aspect of your CV is writing its content; your experiences, skills and lived lifelessons, as well as the way you compell them. However, in many occasions an impressive and very well written CV isn't enough to make you stand out, and could be discarded without even a recruiter reading it. Why is that? In most of these cases, whether the structure of the CV template didn't highlight the candidate's strongest skills and experiences or the format was completely off, and not designed for the specific industry or role the candidate was applying to.
That is why it is very important to take the time to pick the right CV Template for every occasion, and in order to do so, you have to ask yourself the following questions:
What's the general tone of the industry you want to work in? Is it a very tradicional industry or an industry that embraces change constantly? Pick your template accordingly
Is creativity a valued skill in the specific industry / branch of work?
What's the most important section on my CV?
Do I have a lot of relevant experience? If you do, pick a CV template with plenty of text space, where the work history is the most important part of the CV, if you don't, pick one that puts this section at the same level of importance of other sections.
Am I going to include a photo or not?
Answering these questions will help you choose CV template in tune with the position/s and company/ies you are applying to. You will find out if you need a simple template or if you need a more modern one, if icons and graphics are ok or not, to go with darker more plain colors or with something brighter, etc.
Free CV templates
At cvonline.me, we are committed to help candidates navigate the stressful task of crafting the best possible version of your CV. In addition to using our easy-to-use online builder allowing users to add and sort sections and elements from the editable CV Templates, we have designed a wide range of CV templates suitable across industries and roles.
Many of the new CV Templates in our site are free to download, specifically, all Word templates you'll find in this page are free. To download them just click on Download Template. The same way, all online CV templates available within our CV Builder, can be created and shared for free using our free plan, with the only limitation that background pictures can't be changed.
Finally, our Online CV Builder can help you design a professional resume in minutes with editable CV templates with free download, that you'll be able to identify with a Free sign on them. Additional editable CV templates are available to save as a PDF with a JOB HUNTER account, a paid account that gives users access to premium features an templates.
The best CV template
There is a vast range of CV templates available on the internet, yet there isn't any sort of one-size-fits-all template. The best CV template is the one you as a candidate conciously pick having considered these questions and you feel comfortable with.
It's important to be fexible, sometimes you start with one template only to realize your CV is going to be to long to fit everything in one page with that template. For this specific reason, our builder in addition to allow maximum customization of section and elements, lets you easily change between templates without losing any of your CV Content, as well as duplicate CVs, import content from your Linkedin profile, etc.
In the first phase of a recruitment process, your CV will probably be analyzed by a computer, therefore the only requirement related with the style of your template will be that it contains text and can be read by an ATS machine. However, in the following phases, humans will have to skim it and in the best cases read it, CV templates should make it as easy as possible for them to absorve the most relevant information on your CV, and that's where the format comes into place. Which ones of the 2 CVs is easier to skim?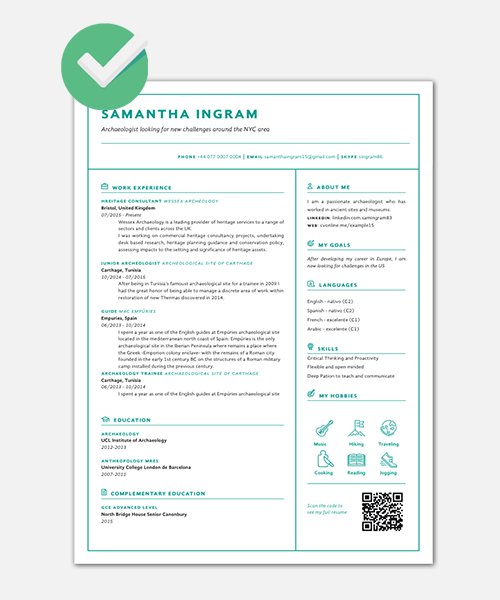 Use different CV versions
Our final recommendation is to adapt your CV templates as much as you can to the positions you are applying to. This doesn't mean that you can't use the exact same template for 2 different openings, of course you can. However it is important to familiarize yourself with the company and their services / products, and question yourself: Is there any content, section that I should modify to better match my profile with the company?
In every case, read the position description, visit the company site, etc. And try to understand what skills does the position require, not only the ones that they explicitly mention, but also the skills that you can see are needed in addition to them. Then take skill by skill and see where on your CV you are showcasing it. If you are missing any, add a section or a subsection to showcase it.