How to write a cabin crew CV to stand out
Flight attendants are the unsung heroes of aviation. They take care of passengers, making sure they are comfortable and safe during flights, as well as ensuring that everything is clean and tidy on board.
Despite thousands of cabin crew positions open every year, due to the fierce competition, many applicants find it hard to get a job in the airline industry, specially as an actual flight attendant, where cabin crew recruitment offices receive hundreds if not thousands of applications for each role or position. However, with proven experience in customer service and some necessary basic training, landing a job as a flight attendant isn't as hard as it might seem. Entry-level candidates without training or experience in customer service are encouraged to apply for land-services roles to get their foot in the door in the aviation industry. Tips in this article might also be useful for them as well.
Flight attendants with relevant work history and/or training should focus on crafting an exceptional CV demonstrating that they have what it takes to work for a major airline and be part of this elite aviation industry professionals.
What is an exceptional cabin crew CV? It's nothing more than a CV presenting your abilities and experiences in a professional and structured manner. Here's how to write a job-winning cabin crew CV: Let's dive into the essential sections, structure and the best formatting tips. Don't forget to check out the cabin crew CV example.
Cabin crew formatting tips
Many studies have surfaced over the years around the time hiring managers spend skimming a CV, and flight attendant resumes aren't certainly an exception. Therefore, the most important CV formatting tip for cabin crew members is to choose a CV template that effectively and quickly delivers the key information they are looking for in order to decide if they want to meet you in an interview. It's really that easy, a cabin crew CV professional format ensures your CV: 1- passes the ATS screening and 2-Highlights your expertises and accomplishments in a highly-effective manner that leaves recruiters wanting to meet you and excited to fill their opening. But that's easier said than done, so let's break it out in a few actionable tips to help you pick and format your flight attendant CV:
Keep your CV it under a page if possible. You can go as far as 2 pages, however, in those cases, candidates to become cabin crew members have to make sure the first page of their CV would make the cut, making the second page a "nice to have", since it will most likely be ignored

Make sure the CV format is well structured with differentiated sections with clearly styled headings

Use bold and other design elements to highlight important verbs and pieces of content like achievements or key-skills / responsibilities

As often the extremes are bad: avoid using too plain of a format or templates with too much formatting. We highly recommend to use an easily-legible

CV format with some design element that makes it stand out from the norm and gives the recruiter a visual break, like icons, colors, QR codes, etc.
If you have a long career in aviation services, remember that from your cabin crew CV you can always link to an extended online cv where you can add all your experiences, achievements, etc. We have the perfect template for the airline industry: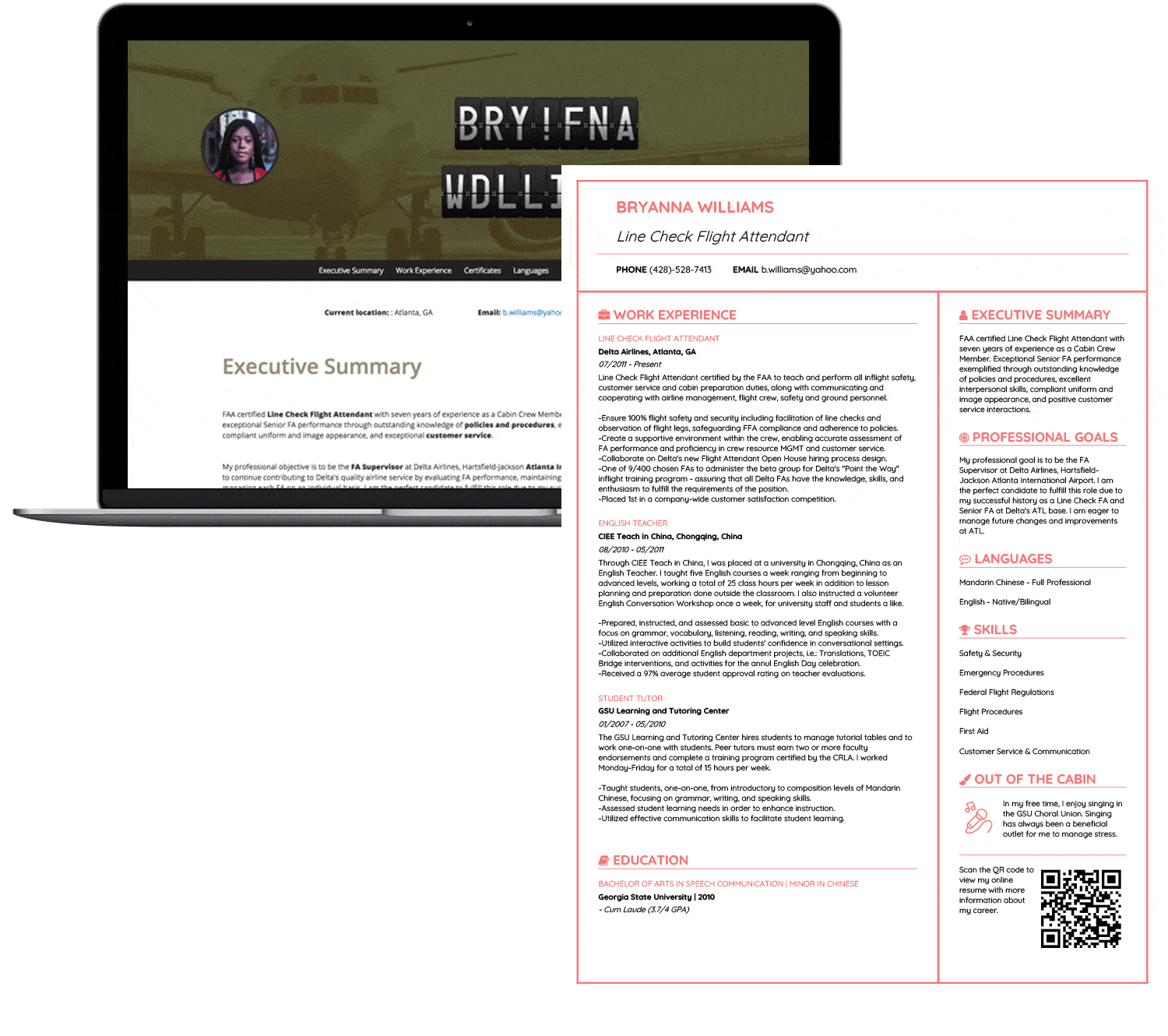 Action verbs you can't miss on a flight attendant CVs
This is a comprehensive list of action verbs you should be using on your cabin crew CV:
Achieved
Briefed
Chaired
Coached
Controlled
Coordinated
Cultivated
Developed
Directed
Earned
Enabled
Established
Evaluated
Examined
Exceeded
Exceeded
Executed
Facilitated
Facilitated
Fostered
Gained
Guided
Headed
Informed
Maximized
Mentored
Operated
Orchestrated
Organized
Outperformed
Oversaw
Planned
Qualified
Reached
Reduced
Reorganized
Resolved
Secured
Taught
Trained
Flight attendant CV Structure
Even though there isn't a one-size fits all flight attendant resume structure, there is a set of sections that all good cabin crew CVs should have. These sections will help you showcase your experiences and expertises and how they fit into the specific cabin crew position you are applying to.
CV header
Often overlooked, the CV header is inevitably the segment that will be first noticed on your CV, therefore it is smart to make good use of it. In addition to your full name, your cabin crew CV header should contain:
Your contact details: These should just be a professional email address and ideally a phone number.

A CV headline is something the best cabin crew CVs have in common. Here you can see real CV headline examples.

Including a professional photo is widely accepted on cabin crew CVs. It is actually a good opportunity to portrait yourself as the well-groomed professional person the airlines are looking for. Therefore, if you do, use a well thought out head and shoulders professional photo.

Location: Include the area or place you are currently based on or you want to move to. never add a full address.
Although, airline cabin crew qualifications used to include specific physical requirements such as height or age, these have been widely withdrawn, so it is actually not recommended to include statistics like this in the header of a flight attendant CV.
Ver ejemplos de títulos para CVs de marketing
Professional profile
Also known as professional summary, executive summary or "About me", this should always be the first section in a good cabin crew CV, right below the CV header.
Think about it like a really brief cover letter. The professional summary on a cabin crew resume shouldn't be more than one or two paragraphs and should include your unique selling proposal, so to speak. Tell your story in a nutshell making a brief summary of your key experience, abilities, qualifications and remarkable achievements tailoring them to the role you are applying to in order to showcase the wonderful qualities you would bring to the company and the team.
Don't be vague, be specific, definitely mention your previous positions in airlines, and even the routes you have done specially if they are relevant and transferable to the target role. The best way to understand how a snappy cabin crew CV professional profile looks like is by checking out one of these examples.
You can use the last sentence of this section to include your next career objective, as a sort of call to action. Making it very obvious why the role you are applying to is the next natural move for you.
See professional profile cabin crew CV examples
Work Experience
Right after your professional profile, the cabin crew work history CV section should be next. Specially for those with relevant experience in the aviation industry or very transferable experiences in other sectors. Include the 3 or 4 most relevant roles, starting with the most recent one and working backwards. Focus on developing the experiences that are more relevant to the targeted role.
Every position should include the following elements:
A header with the following information:

Job title or position
Airline or company
Dates from/to, ideally on a mm/yyyy format

One paragraph overviewing the role, company and specific routes, departments or teams you were part of. Who did you report to, and if you managed a team, who was it composed of.
A short bullet-point list with your key day-to-day responsibilities
Finally, if possible, it is highly recommended to include a small paragraph with your accomplishments or achievements while in the role.
Again, to better understand how a great work experience description should look like, please, check out our cabin crew experience cv example:
See work experience cabin crew CV examples
Skills
Your skills are what recruiters and hiring managers are looking for in your CV, however against what some people think, expertises are all over your CV, they should permeate all your CV sections. Some groups of skillsets can and should have its own section with a clear heading introducing them. However, soft skills like communication skills, teamwork, etc, which are probably the most important cabin crew CV skills, should never be included in a separate section under the heading "Soft skills" or "Key skills". Next, the skills that should be on a cabin crew resume and the best way to include them:
Hard Skills on a Cabin Crew CV
One of the most valued skillsets for a cabin crew position are language knowledge; therefore, it is highly recommended that these are presented within its own section. But that doesn't mean you shouldn't include them anywhere else; it is a great idea to include them in the professional profile and even in your CV headline, as you can see on the cabin crew CV headline examples.
In addition to language skills, other hard skills for cabin crew members include first aid, safety regulations, food handling, flight and airport procedures as well as software management for landside operations like reservations, checkin, border control, baggage handling and tracking, etc.
Although these hard skills should also be included within your past position responsibilities, it is recommended to include a specific section to list them, especially if they are some of the role requirements.
Soft Skills on a Cabin Crew CV
Soft skills are skills that are hard to list or measure, but it is highly important to mention them when it comes to cabin crew CV skills. How? They should be included within your professional profile and work history descriptions and achievements, as well as other sections like "Events" or "Interests" if you don't have transferable experience. Here you can see a couple of examples on how to do this.
After checking the latest cabin crew recruitment trends and analyzing more than 4 cabin crew Qatar airways job descriptions, we have crafted a list of important soft skills you can't miss on your cabin crew CV:
Customer service is probably the most important one, demonstrated your transferable expertise providing assistance and taking care of passengers and engaging with users in other industries is highly important. You are going to be the face of the airline in many instances, therefore, demonstrating your professionalism is crucial.
Very related to customer service are your communication abilities, you can demonstrate them with your work and non-work experiences, for example, if you have hosted events or represented groups, these are excellent examples of you having strong communication abilities. If you have to include an "out of the office" or "free-time" section in order to mention them, go ahead and do that.
Your organization skills and your ability to work under pressure are also a must on your cabin crew resume. The best way to demonstrate this is with numbers: "Assisted in successfully boarding 300 passenger flights", "Checked more than 200 bags per hour" etc.
Teamwork is another essential skill to efficiently run air and land operations involving passengers. The best way to demonstrate them is by mentioning the nature of the teams you've been part of or managed at work, as well as in out-of work activities.
Your sales skills are becoming more and more important if we pay close attention to the latest cabin crew recruitment reports. The best way to demonstrate your sales expertise is also with numbers, preferably among your past position responsibilities and achievements.
See real cabin crew skills for CV examples
Qualifications
On your Education or qualifications section, list your relevant qualifications but don't overdue it. Simply include your highest qualifications and avoid mentioning previous unrelated qualifications. Every qualification should include the degree you obtained and its issuer, the dates you studied or graduated from it, and if it's remarkable, your grade.
If you have airline-specific training, include these in a separate section under a headline like "Training", or "Other relevant qualifications", etc.
See qualification examples for cabin crew CV
Additional sections
As we have already mentioned this list isn't exclusive, your cabin crew CV can have as many sections as you need to demonstrate your transferable skills and experiences, so sections like interests, courses, publications, events, etc. are welcomed if they help you demonstrate that you have the skills needed to be great airline cabin crew member.
Airline cabin crew CV example
This Flight Attendant CV has been optimized for applications with major airlines such as British Airways or Delta Airlines with the latest cabin crew recruitment trends and guidelines. Here you can check out the full CV and below you'll find specific examples of what to do and what to avoid for each CV section.
Download cabin crew CV example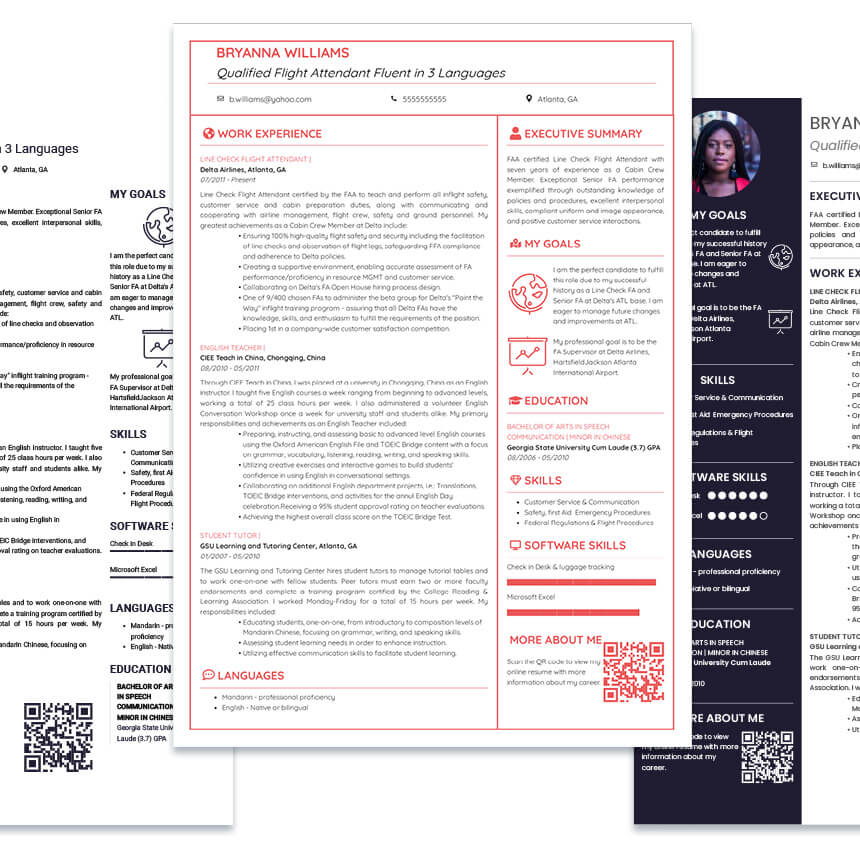 Cabin Crew CV Headline
Here you can see examples of effective real cabin crew one liners or CV headlines:
Cabin Crew member with 6 years experience
Experienced flight attendant with Enlgish and Spanish
Bilingual cabin crew with domestic flight experience
Cabin crew stewardess with experience in long haul flights
Certified flight attendant with landside operations experience
Flight Attendant
Motivated Cabin Crew member
Cabin crew steward
Recent graduated cabin crew member
Cabin Crew Professional Summary
Below you can see a couple of examples of professional summaries from an experienced stewardess:
FAA certified Line Check Flight Attendant with seven years of flight experience as a Cabin Crew Member and more than 7000 hours of airtime, including domestic and transatlantic flights for Delta Airlines. Exceptional Senior FA performance exemplified through outstanding knowledge of policies and procedures, excellent interpersonal skills, and positive customer service interactions.
I have been a cabin crew member for seven years now, all of them working for Delta Airlines out of Atlanta. The first 3 years of my career as a flight attendant I did domestic routes, while for the last 4 years I combined domestic and international routes.
Below a couple of cabin crew professional profile examples for a recent graduate without flight experience:
I am a bilingual certified cabin crew member with proven experience in the hospitality industry, first as a butler and then as a receptionist at a 5-star hotel in the city of London.
Highly motivated Certified Flight Attendant searching for my first opportunity on a domestic or international airline.
Cabin crew CV work description
07/2011 - Present
Cabin crew member | Qatar Airways
Line Check Flight Attendant certified by the FAA to teach and perform all inflight safety, customer service and cabin preparation duties, along with communicating and cooperating with airline management, flight crew, safety, and ground personnel. My greatest achievements as a Cabin Crew Member at Qatar Airways include:
Ensuring 100% high-quality flight safety and security, including the facilitation of line checks and observation of flight legs, safeguarding FFA compliance and adherence to Qatar policies.
Creating a supportive environment, enabling accurate assessment of FA performance/proficiency in resource MGMT and customer service.
Collaborating on Delta's FA Open House hiring process design.
One of 9/400 chosen FAs to administer the beta group for Qatar's "Point the Way" inflight training program - assuring that all Delta FAs have the knowledge, skills, and enthusiasm to fulfill the requirements of the position.
Placing 1st in a company-wide customer satisfaction competition.
07/2011 - Present
Cabin crew Qatar airways
Geeting passengers onboard
On-flight training for junior cabin-crew members
Provided inflight safety instructions prior to take-off on every flight
Serving food & beverage
Here is an example of work history outside of the airline industry that demonstrates in an effective manner the candidates' transferable skills.
08/2012 - 09/2016
Shift Store Manager | Uniqlo
Uniqlo is a famous japanese life-style clothing brand with over 16 stores in the UK. As a store manager for London's  170 Oxford Street store, I managed a team of between 10 to 20 instore customer service associates and cashiers, and I:
Organized the team shifts to accommodate business needs
Trained junior associates and cashiers and assisted them on their daily tasks
Managed instore stockage and accommodate new arrivings
Motivated the team to always exceed seasonal goals by 20%
Ensured the company company guidelines and brand were always respected and well represented by all our employees.
Above exceeding some business goals, the achievement I am most proud of from my time as a store manager was the fact that I always scored above 8/10 in the general internal employee survey and kept our Google My business profile star rating above 4/5.
08/2012 - 09/2016
Shift Store Manager | Uniqlo
Geeting passengers onboard
On-flight training for junior cabin-crew members
Provided inflight safety instructions prior to take-off on every flight
Serving food & beverage
Cabin crew Skills for CV examples
Remember that soft skills for cabin crew members should be included in other sections of your CV, not within a specific section. Here you can see an example of a professional summary for a cabin crew member that exemplifies in a highly-effective manner her teamwork, communication, and customer service skills:
Professional Summary
I am a passionate customer-centric cabin crew member with 7 years of flight experience on European international routes, mostly managing boarding and inflight assistance with a team of 4 cabin-crew members serving in A320 routes between the UK and major Mediterranean destinations. In my free time I am the national representative for an NGO fighting for children's rights and have been honored to serve on a parliament commission related to this matter.
Professional Summary
Cabin crew with 7 years of flight experience and excellent organization and communication skills. I am customer-oriented and highly value team-work. 
Hard skills on the other hand, can be included in a separate section on your CV here a couple of examples of a skills section for a cabin crew CV:
Skills
Customer Service & Communication
Safety, first Aid & Emergency Procedures
Air-traffic Regulations & Flight Procedures
Amadeus
Check in Desk & luggage tracking
Skills
Customer Service
Communication skills
Team work
Sales skills
Cabin crew Qualifications Example
2007 - 2011
B.Sc. in Hospitality Management | University of West London
2007 - 2011
B.Sc. in Hospitality Management | University of West London
2003 - 2007
Highschool diploma | Croydon Highschool
Do cabin crew openings require a Cover letter?
Some openings require a cabin crew cover letter. This is an excellent opportunity to further relate the work history on your CV with the role you are applying to. Making it very obvoius that it's a natural move for you.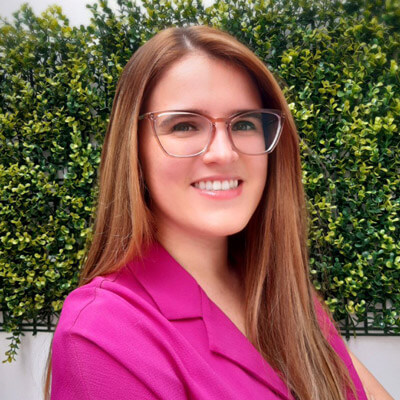 Coach & recruiter @kaelon.co and co-founder @cvonline.me