Student CV Examples
Among the following student CV examples you can find a recent-graduate looking for a summer job related with electronics, an BA student looking for an internship, a nurse student CV, a student teacher CV, a grad school resume, and an economics college student looking for a position in the academic job market. Easily browse these sample resumes in PDF format by clicking the "Download CV button"
High School Student about to start Vocational School with a no-experience resume
Download CV example for free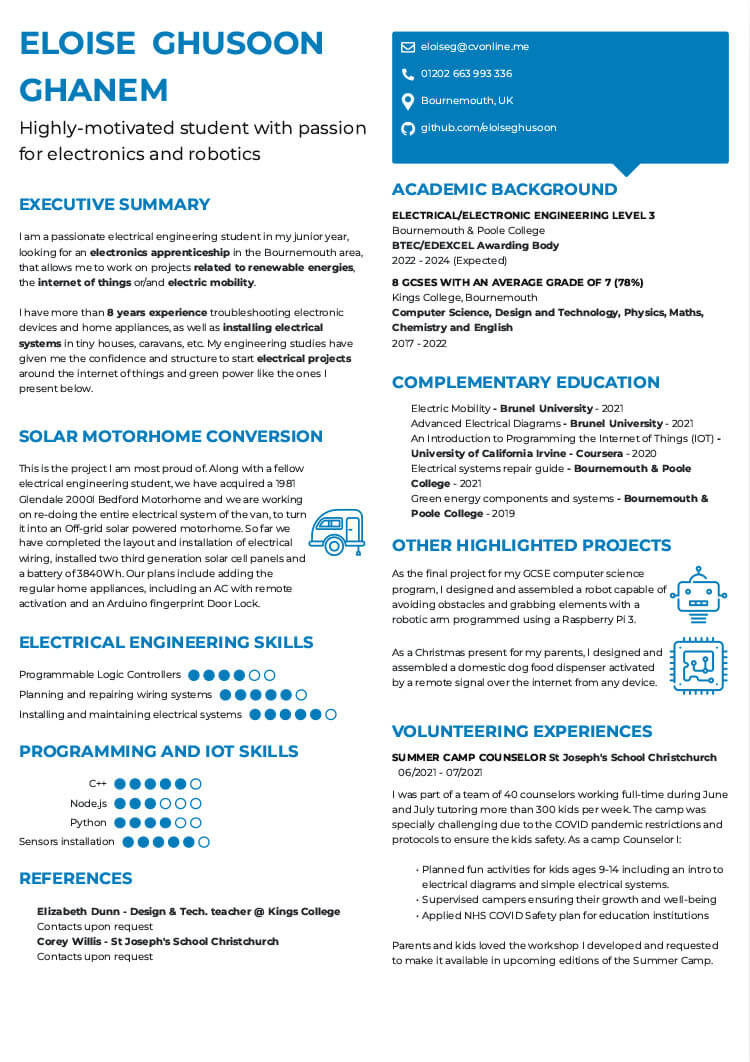 University student - Senior year CV example
Download CV example for free
College student without experience outside academia
See & download CV example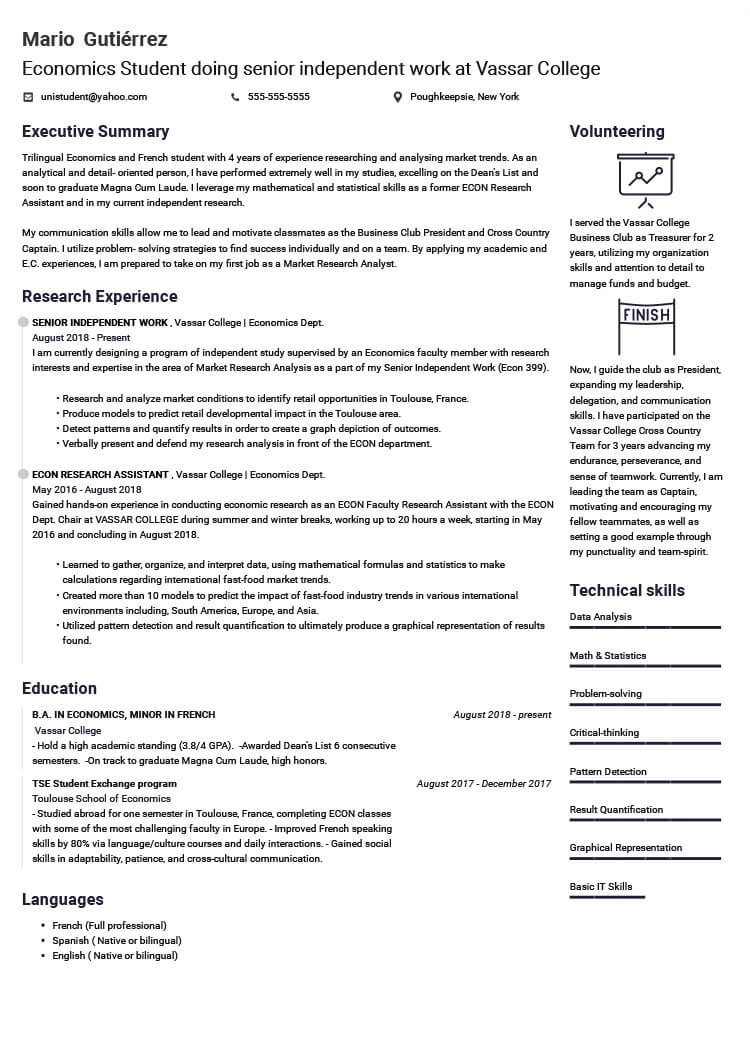 Student Teacher CV example
See & download CV example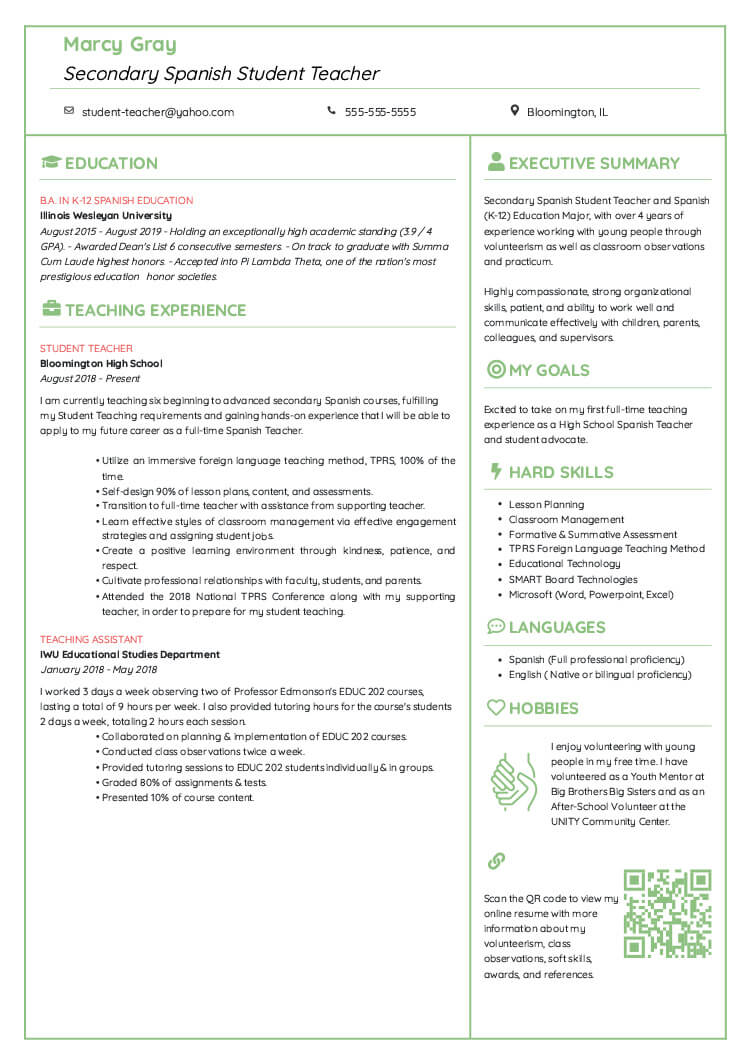 Student Nurse CV example
See & download CV example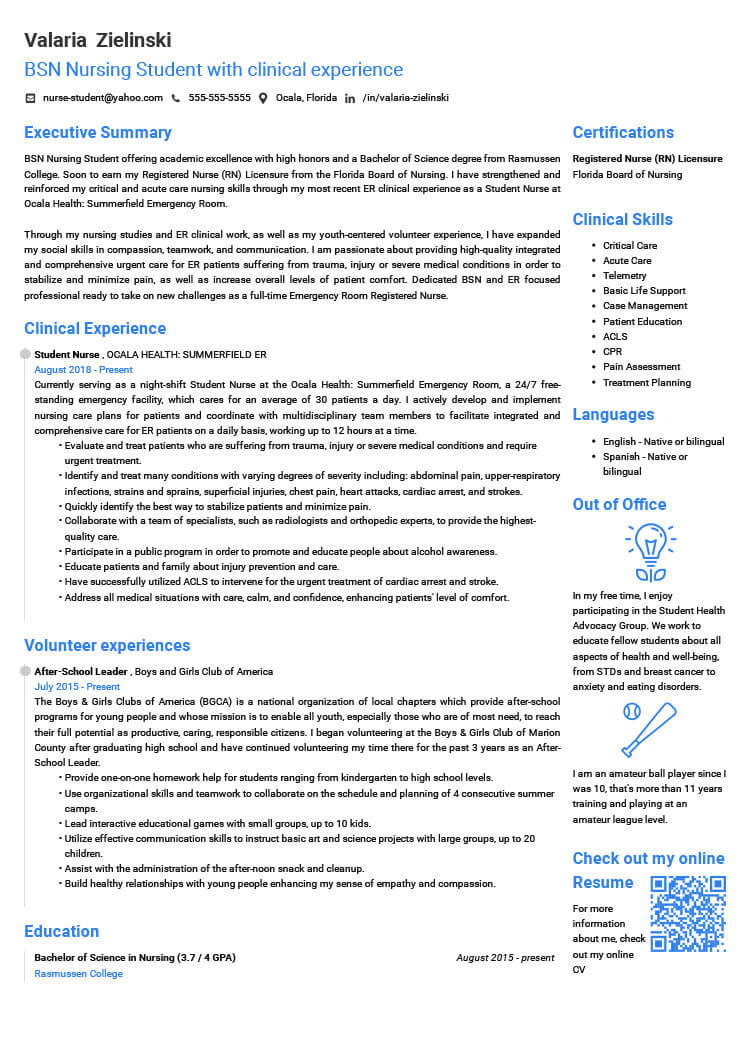 How to write a great CV as a Student
Many people tend to think that crafting a great Cv as a student is more complicated than usual, since students tend to have a shorter work history or no work history at all. In this article we debunk some myths, include real-life samples, and challenge you to do some introspective work to be able to come up with the best possible version of your CV. Shifting the focus to sections like the personal statement, the skills section, the education section, etc. without forgetting about the work history, that even though it won't probably be the most important section on your CV, it can definitely help you build a stronger application. Let's dive in!
Grammar mistakes are a huge red flag for recruiters, not because they expect candidates to have excellent written skills but because they mean that you didn't pay attention to the details, and in a competitive job-market this is a basic and very important skill that they will find in other candidates. Grammar mistakes in your Student CV are very easy to fix: Make sure you use a grammar checking tool when writing your CV.
Things to consider before Starting your Student CV
Before kickstarting your student CV writing process, we highly encourage you to stop for a second and understand why you need a CV. The most likely scenario is that you need it to apply to a specific role or set of roles. In this case we encourage you to identify what skills are necessary for these target roles or singlerole. Some of the skills can be easily found in the role's job description; others require a little bit of industry knowledge and common sense. Checking the business' physical or online presence can also help.
The next step will be to spot specific examples within your experiences (if you have them), academic background, academic achievements, experiences, volunteering, free-time activities or hobbies, etc. that proof you have acquired and/or practiced those skills, and are ready to apply them in the role/roles you are applying to. Use the recommended CV sections that you will find below to make sure you cover them all.
This exercise of identifying these skills will give you a huge advantage, and the next step will be to write a "master CV" that you will be able to use as a base to create new variations for many target roles if you want to do so.
The perfect student CV format & useful tips
Like usual, there isn't a one-size-fits-all format. The best format for a student CV will depend on the amount of work history and information you have. Students with lots of relevant work history and academic background will pick CV templates with larger room for these types of sections, while students with fewer professional history will pick a template that can fill up a page with fewer content. It also depends if you are also attaching cover letters or not.
In addition to the template/ design, the format of a student CV is determined by the structure and order of its sections, that we will cover in the next segment. Depending on the structure and sections you pick, it will be considered a skill-based CV or a Chronological CV,but don't get too messed up with these terms, since hint: it doesn't really matter how your CV format is called.
Skill-based CVs tend to be more common among students, since this format highlights your abilities and qualifications over heavily focusing on your work history like the reverse-chronological CV does.
One important tip is that no matter what you turn your CV in as a PDF, even if you use a Miscrosoft Word CV template to make it. The reason is because turning your CV otherwise can very easily alter its format and content, and you want to avoid this at all costs. Of course, this rule doesn't apply if the job application form specifically requests a file other than a PDF, then turn it in the specifically requested format. But otherwise, even if it isn't specified, always turn in a PDF CV. Find here PDF CV templates.
Student CV Layout
The general rule says that you should be able to fit your CV in one page; this is especially easy in the case of students. Remember that if your CV is longer than that, you can always use an online CV like the one you can see below, or a portfolio type of website to present extended information. That being said, teaching and research positions in academia tend to accept and actually prefer long CVs with all the candidate's information; in these cases CVs can be 2 pages or even more.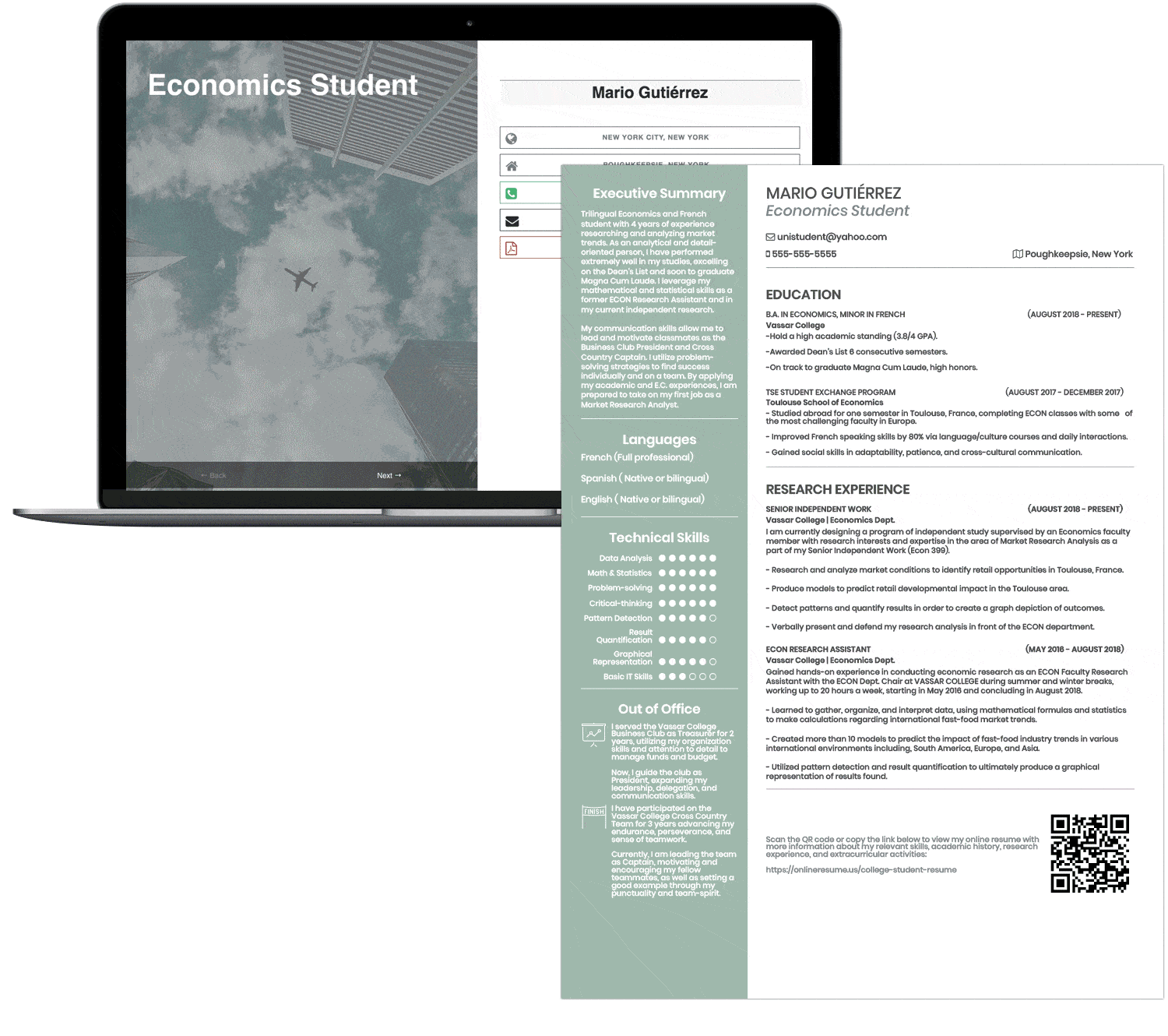 The layout of your student CV will depend on the importance you want to give to the work history section. In order to decide this, check out this segment. If you have relevant experience, we recommend you to go with the first layout, if you have a work history but most of the transferable skills are in other parts of your CV like your interests, your academic background, personal statement, the skills section, etc. then go with the second one, and if you have no experience at all then go with the third one.
These are just proposed layouts; the final ideal section structure will have to be decided on a case-to-case basis, depending both on the student's profile and the skills required in the target roles.
In terms of your CV format, it is important to make sure that it can be properly read by ATS applicant tracking software. And in terms of its content, it's equally crucial to follow this article's guidelines to ensure your student CV covers the minimum requirements for the role. If your CV can't be read by these softwares or you haven't include the right keywords , there is a big chance your CV won't get to the eyes of a human.
CV Header for students
This is a comprehensive list of action verbs you should be using on your cabin crew CV:
Often overlooked, the CV header is inevitably the segment that will be first noticed on your CV, therefore it is smart to make good use of it. In addition to your full name, your cabin crew CV header should contain:
A valid and professional and valid email address. High school students and other students should avoid using emails with nicknames and other addresses created just for fun. Ideally use an email that uses your name and surname. If you don't want to change your email address with these characteristics, just create a new one and forward incoming email to your old email address.
A valid phone number
A professional CV headline, also known as Job title , is a one-liner of your most relevant / prominent skills. Here you have a whole article that will help you craft the best CV headline. Check out the CV headline examples for students.
Often candidates add these elements to their CV's contact information section:

Location or desired location
Social media profile links
Personal website links
Availability
Even though it is very obvious, it's important to mention that both email address and phone number should be yours, don't use email addresses or phone numbers that belong to other people.
CV headline for students - Great examples
Highly-motivated student with passion for electronics and robotics
BA Student with experience managing a channel with >1K Subscribers
Awarded Student with 4 experience pursuing an MBA at UCLA
Creative BA Student with strong digital branding skills
Hospitality management senior bilingual in English and Spanish
Marketing Student with 2 years experience with real clients
Immigration Law recent graduate with 1 year experience
Journalism sophomore with strong video editing skills
Nursing school junior with focusing on palliative care
Civil Engineering Technician with land surveying experience
UX Designer with 8 years product design role experience
High School student
BA student ready to work
BA student looking for opportunity
Marketing Student
Nursing School Junior
Civil Engineering senior looking for summer internship
2d Year academic foundation programme practicioner
Hospitality Management Student
Do you notice the difference? It's not that these last CV headlines are completely wrong; definitely better to add these rather than not adding a CV Headline at all; however, they are missing an opportunity to mention key skills that define you and that ideally align with the target role.
CV Personal Statement
Also known as "professional summary", "executive summary", "about me", etc. this is the section for you to shine as a highly motivated and capable student. This section is a brief summary of your skills and experience, where you will explain at a glance: who you are and what you have done over the years. After reading the job description as described here, you want this summary to detail why you are the ideal candidate for the position. This means that ideally, the personal statement should be rewritten for each position you apply to. If you are applying to very similar positions and come up with a summary, that is good for all of them, that is also a good way to go about it.
Be as concise as you can be: the ideal length of the professional summary on a student CV is one or two paragraphs, with no more than 200 words.
As you can see in the following example, the personal statement, can also include your career goal or CV objective, since lately there has been voices against including this in a specific section on your CV. This goal shouldn't be vague and must be totally aligned with the company's goals.
CV personal statement student examples
I am a multi-disciplinary creative professional with a passion for digital marketing channels and design. At a young age I got involved in multiple projects around personal and corporate communication and branding, including my Digital Marketing Youtube channel with over 1K subscribers. These projects have allowed me to develop a deep knowledge and understanding of how the main marketing channels work, as well as applying a wide range of skills like illustration, photo and video editing, motion graphics, etc.
With a year of experience in the retail industry and about to finish my double major in English and Scenic art studies, I am currently looking for a creative digital marketing position where I can be involved in the campaign design and strategy process in order to kickstart my career in the advertising industry.
I am a BA Student that has acquired excellent communication and visual art skills through my years of education and personal projects. I am a very curious person, specifically when it comes to social media platforms and I am highly motivated to add value to the company as a key part of your team.
Student CV key skills section
Skills are commonly divided into two categories: Hard and soft-skills. The hard skills are those skills that can be measured more easily, like languages or technical skills. You can say that you are proficient in the usage of Adobe Photoshop or fluent in Spanish and there isn't much room for interpretation: we are going to assume you can use photoshop like a pro and hold a conversation in Spanish understanding that you could make mistakes but these won't affect communication. These type of skills can be listed and included in your CV by quantifying them whether with proficiency descriptions or with scale charts: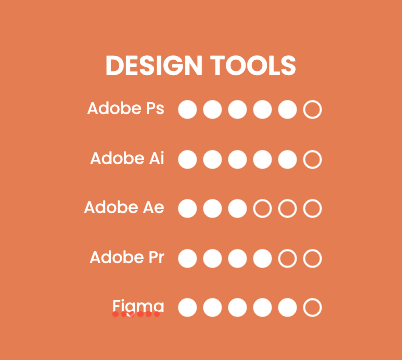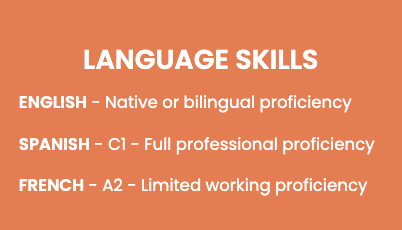 Soft skills, on the other hand, are inter-personal and behaviorial skills, very hard to quantify and highly subject to interpretation. Therefore, it isn't generally a good idea to use lists to include soft-skills in a CV; instead candidates should use other sections to include them, as described here.
However, skill-based CVs are an exception to this norm, particularly in the case of students with a no-experience resume where the skills section becomes one of the most important sections. So, when it makes sense, it is totally fine to list your soft-skills in. But you should still avoid including bullet points in descriptionless lists. Instead, as shown in the examples below, you should include examples of how you have used those skills, alternatively mentioning how you acquired them.
When it comes to including the skills section in a Student CV there is many possibilities, here are three smart ways to go about it:
A Skills / Skills summary section combining all your hard and soft skills, with subsections.
Many sections grouping skills in categories.
A dedicated section for each relevant skill.
Adding one or more skills sections to your CV doesn't mean you can't include examples showing off your skills in other CV sections. You should still use your achievements, responsibilites, executive summary etc. to emphasize what you are most talented at.
Great examples of student CV skills usage
MY STRONGEST SKILLS
EXCELLENT COMMUNICATOR
My academic background in English and scenic arts along with my passion for creative writing have given me the confidence to effectively communicate messages across channels using strong storytelling techniques.
Through my customer services experience in a busy and demanding retail environment, I have improved my interpersonal communication skills, particularly when it comes to effective client communication.
CREATIVE
I have a true passion for creative work. Bringing ideas to life is something that has always come naturally. I developed a passion for digital illustration earlier in life, and I have consistently created marketing materials for countless events and businesses. You can check out my portfolio here.
I am always exploring and learning about new formats, developing an interest in short video materials and websites, what brought me to create my personal blog and Youtube channel, maintaining a strong publication consistency over the last three years.
ANALYTICAL
My Youtube channel and my blog have ignited my analytical skills, pushing me to measure every detail and audience interaction with tools like Google Analytics, Sendgrid, Google Data Studio and Tableau.
This has allowed me to consistently grow my audiences and increase the monetization of my blog and my subscriber's email list.
FAST-LEARNER
Thanks to the selfless community contributors, I have learned many skills and following the motto 'learn by doing' put them into practice. I am thrilled with the evolution of web and video formats and look forward to keeping learning and using new trends and formats to grow.
SKILLS
Excellent Communicator
Creative
Analytical
Fast-learner
EDITION SKILLS
Adobe Photoshop ●●●●●○
Adobe Illustrator ●●●●●○
Adobe After Effects ●●●●●○
Adobe Premier ●●●●●○
Final Cut Pro ●●●●○○
Figma ●●●●●○
MARKETING SKILLS
Email Marketing ●●●●●○
Facebook Business Ads ●●●●●○
Linkedin Ads ●●●●○○
Youtube Editor ●●●●●○
Google Analytics ●●●●●○
Google Ads ●●●●●○
Google Data Studio●●●○○○
WEB SKILLS
CMSs: Wordpress, Hubspot & Webflow ●●●●●○
Languages: HTML5 & MySQL ●●●●○○
Communication ●●●●●○
Team Work ●●●●●○
Organization ●●●●●○
In the following example, we can see how a student has done a great use of her personal profile to describe some of the skills required for the job, even though she has a no-experience resume:
EXECUTIVE SUMMARY
I am a passionate electrical engineering student in my junior year, looking for an electronics apprenticeship in the Bournemouth area, that allows me to work on projects related to renewable energies, the internet of things or/and electric mobility.
I have more than 8 years experience troubleshooting electronic devices and home appliances, as well as installing electrical systems in tiny houses, caravans, etc. My engineering studies have given me the confidence and structure to start electrical projects around the internet of things and green power like the ones I present below.
Organization skills
Planning skills
Internet of things
Electrical Systems
Experience or no-experience, that is the question
Even though you might think that you don't have a work history, or that the experience you have doesn't relate to your targeted role, in most cases it is a better idea to include it in your student CV than to leave it out. The key is to take these informal or apparently unrelated experiences, and write a work description focusing on the transferable skills used in these kinds of experiences.
Let's take the case of the university student that is looking for an internship at a marketing or creative agency. He's never had a formal marketing job; however, he's been working on his personal brand for more than 3 years now with a blog with thousands of monthly visitors and a Youtube channel with more than 1K subscribers, the tasks he's performed to build those audiences will be very valuable on his next marketing job. Therefore he must mention these in his student CV, and even though they can be added in a separate section, including it as a work experience, it is a perfectly fine option to showcase his responsibilities and achievements.
Related experience example
BRAND MANAGER & PRODUCT OWNER 123easiestmarketing.com
08/2018 - Present
I started a blog and a Youtube Channel to share easy to digest but effective marketing pills with small business owners and entrepreneurs. My main responsibilities are:
Create the content calendar for the Blog, the Youtube, and other social media profiles
Researching and crafting interesting video and web content that drives traffic and engages users across channels focusing on Youtube, email subscribers & web visitors
Developing a marketing automation strategy to onboard new subscribers across the different marketing channels ensuring a coherent brand identity
To the date, the site has consistently published a blog post per week and currently has 11K monthly organic visitors, while the Youtube channel has more than 1K subscribed users in more than 30 countries.
BRAND MANAGER & PRODUCT OWNER
08/2018 - Present
123easiestmarketing.com + Youtube Channel
Non related work experience example
Likewise, his work history includes a retail weekend work at an electronics store for more than a year, even though at first it could seem that this experience is completely irrelevant for the job application at hand, it really isn't, since working in a retail position has most likely developed his customer service and teamwork, both very transferable skills to most positions at a marketing/creative agency. Therefore, when including this experience, his focus has been on responsibilities and achievements that showcase these skills. Next, you can see an example showing how to include a non-related work experience in your student CV:
Non related experience example
Customer Services Assistant Expert DominicSmith Dublin
09/2016 - 08/2019
I worked 8-hour weekend shifts at the Electrical & Home Entretainment Expert store in Dundrum. Saturdays and Sundays are the busiest days of the week, when the in-store assistance doubles. As a customer services assistant I:
Strategically delivered marketing materials and information to customers making sure our merchants branding guidelines were followed
Delivered customer service assistance and advice based on the customer needs, always with an active problem-solving approach
Was in charge of the stock management for the portable devices section.
Over my 3 years at Expert DominicSmith, I contributed to always achieving our quarterly revenue goals and successfully passed mystery-shoppers test scoring above the chain's average, gaining the recognition of our regional manager.
Customer Services Assistant Expert DominicSmith Dublin
09/2016 - 08/2019
Assisted customers
Cashier-related tasks if required
Restocking goods
No-experience resume / CV for students
Now, we understand if your response to our question is that you are a high school student genuinely has no experience, not even in sporadic garden or lown mowing. This is then the only case where you should write a 100% no-experience CV, which is totally fine; you will then relay on other sections to showcase your skills, like the Education, Hobbies Interests or Volunteering sections.
Qualifications or Academic background section
If there is a case where the education or qualifications section is more relevant than ever is in the case of students and recent graduates. Take advantage of this section to highlight any awards, honors you have obtained over your academic background.
Include only your higher education diplomas, avoid including lower education if you have obtained higher education diplomas afterwards. High school student resumes, should also only include their current studies with the predicted year of graduation. College students, vocational students or university students should include their A-Levels, GCSEs and the current degree they are studying including their estimated time of graduation.
Following, we attach an example of how to successfully maximize the use of the education section on a student resume example:
Qualifications example for students
B.A. IN ENGLISH & SCENIC ARTS
American College Dublin
Graduated with first class honors: 3.25/4
09/2017 - 04/2022
B.A. IN ENGLISH & SCENIC ARTS American College Dublin
The power of additional sections on a student CV
Even though we have set a layout framework for student CV sections, there is no limit when it comes to the number or nature of sections. There are typical additional sections that can be very useful on a student's CV to showcase skills:
Language skills
Complementary education
Extracurricular activities
References
But then, as you can see in this high school student resume, where she has added a section under the name "Highlighted products" or another one to explain a specific project she is currently working on, the possibilities are endless, and will depend on the position and the with a list of interesting projects she's done over her academic years and free time, and the candidate.
Is it necessary to add student cover letters to your applications?
As you probably guessed, the answer to this question is that it depends. If the application process has a field for it, then you definitely have to include one, and as it happens with the CV you should target it as much as you can to the targeted role.
On the other hand, if the job application doesn't offer the possibility to add one, don't add one. Your personal statement will act as a sort of brief cover letter targeted to the role.
Finally, students that are sending a spontaneous application, should evaluate the convenience of adding a covering letter on a case-per case basis. There is actually three recommended options:
Send an email attaching your cover letter and CV
Send an email with the cover letter as the email content with the CV attached
Send a brief email attaching the CV that includes a targeted personal statement where the candidate clearly aligns his/her goals with those of the role and company
Once again, make sure to use a grammar checking tool when crafting your application email, linkedin message or cover letter.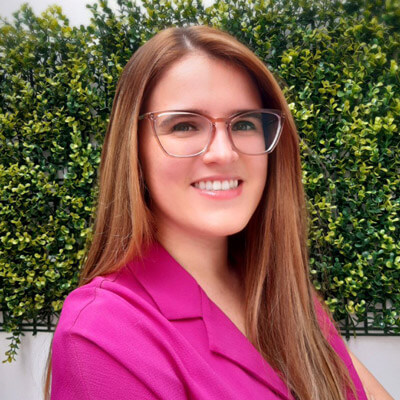 Coach & recruiter @kaelon.co and co-founder @cvonline.me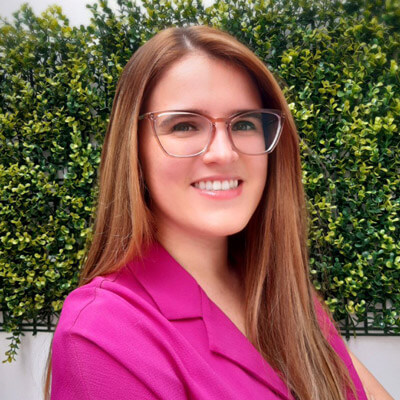 Coach & recruiter @kaelon.co and co-founder @cvonline.me