How to Write a Student Teacher CV
A winning student teacher CV should include all the required education, certifications, relevant experience, and teaching and social skills that represent a qualified educator. Schools looking for a first-year teacher are searching for a candidate with relevant experience working with students and an educational background in pedagogy. Public school teaching positions require state certification, although requirements vary from state to state. In order to obtain certification, candidates must complete a bachelor's program in education. As a current student teacher, you may not have certification yet, but you should make it clear that by the time you finish your education you will have obtained your teaching certificate. You can do this by mentioning it in the Executive Summary or adding a Certifications section to your cv.
Remember that the purpose of your CV is to convince the employer that you are the ideal candidate for the job, demonstrating all of your relevant experience and skills that make you a perfect fit for the teaching position that you are applying for. With this in mind, it is always recommended that you read through the job role description in order to identify the required education, skills, and experience necessary to fulfill the job at hand. Afterwhich, consider, which of these requirements you possess and make sure to highlight them within your student teacher cv.
As a teacher candidate, it is vital to incorporate hard skills and soft skills on your cv. We suggest separating these skills into two separate sections, one dedicated to your technical teaching skills, and another dedicated to your social intelligences and people skills. It is important to include your strongest skills within the Executive Summary. You should also mention how you used these abilities and knowledge within your Work Experience descriptions in order to provide real-life examples that support your level of mastery.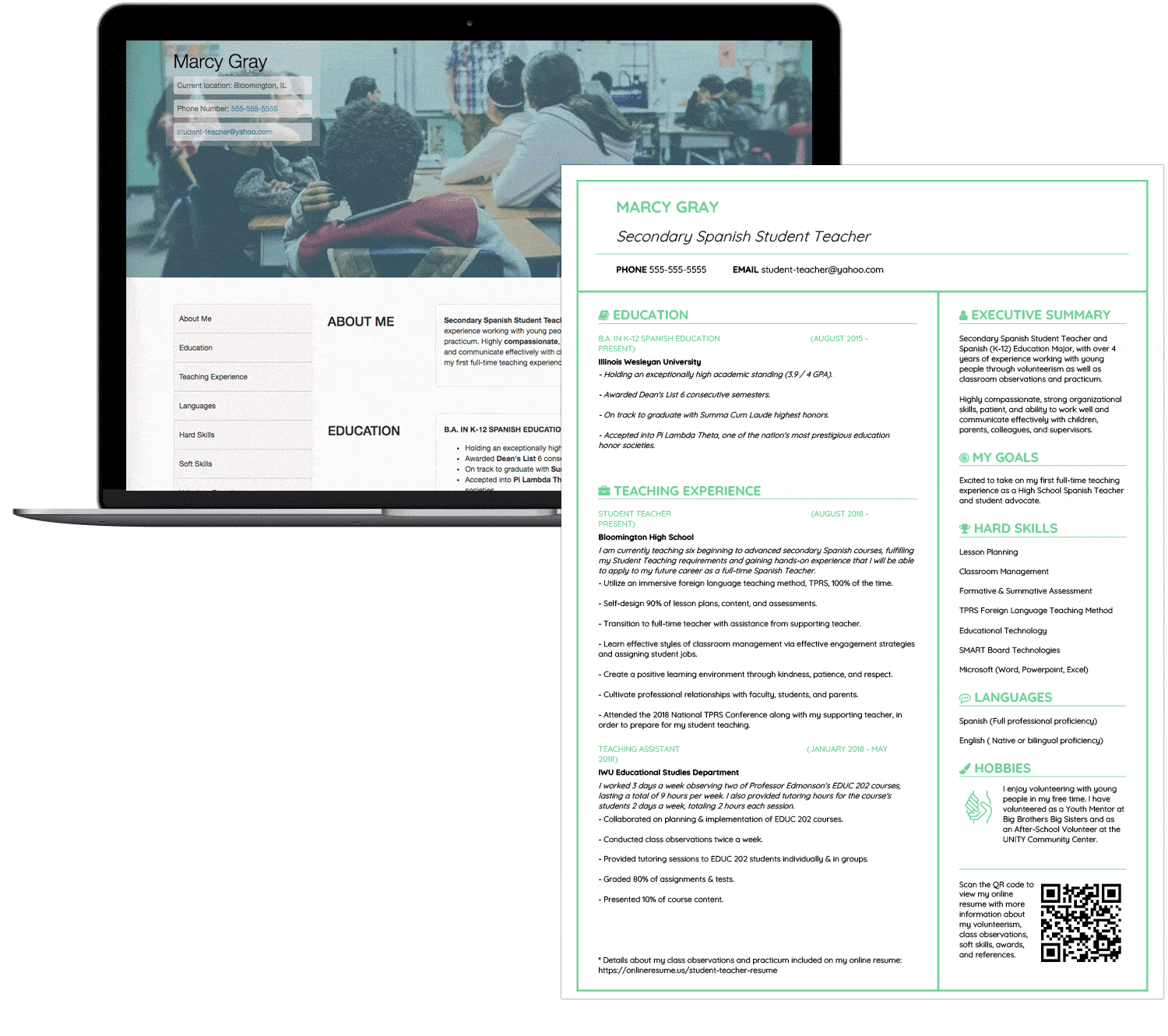 Student teacher Job-Specific Skills
Highlighting your job-specific skills, whether in a Skills section, Executive Summary, or Work Experiences is crucial for any cv. An exceptional student teacher CV, in particular, should incorporate essential technical teaching skills and social skills that the employer is looking for in an applicant. In order to be considered as a strong candidate, it is important to include teaching specific knowledge and abilities. Be sure to include your technical teaching skills, such as content area expertise and knowledge of specific educational technologies. Here are some hard and soft skill set examples to give you an idea of which of these capabilities you can include on your student teacher cv.
Hard Skills:
Lesson Planning
Classroom Management
Formative & Summative Assessment
Common Core and/or State Learning Standards
Specific Content Area Expertise: (Spanish, Music, Science, etc.)
Educational Technology & Software: (Edmodo, Moodle Sakai, MyEdu, Instructable Canvas, SMART Board, Microsoft Powerpoint, etc.)
Soft Skills:
Communication Skills (oral & written)
Student Advocacy
Compassion & Emotional Intelligence
Passion / Enthusiasm for Children
Teamwork / Collaboration
Positivity / Optimism
Organization
Flexibility / Adaptability
Dedication to Lifelong Learning
Coaching
Student Teacher CV Example
Download Student Teacher CV example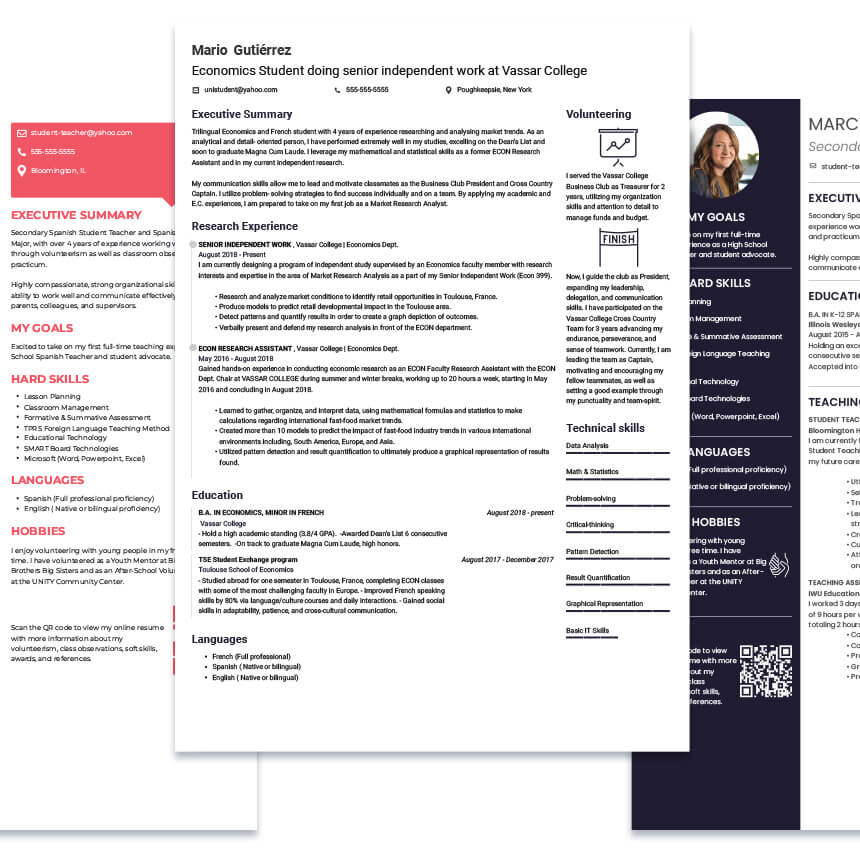 Action Verbs for Student Teacher CV
It is important to boost your CV by incorporating action verbs specific to your job role. Along with your job specific skills, these powerful action words will amplify your responsibilities and accomplishments.
Accomodated
Acquired
Adapted
Addressed
Administered
Advised
Assessed
Assisted
Built
Coached
Collaborated
Communicated
Contributed
Created
Demonstrated
Designed
Developed
Differentiated
Educated
Encouraged
Enhanced
Enriched
Ensured
Facilitated
Fostered
Gained
Guided
Helped
Implemented
Initiated
Instructed
Led
Maintained
Mentored
Modeled
Motivated
Observed
Oversaw
Planned
Prepared
Provided
Reinforced
Shaped
Strengthened
Supervised
Supported
Targeted
Taught
Student teacher Executive Summary Example
Showcase your greatest teaching skills and qualifications here. Use as many action verbs and job specific information and skills as possible, while maintaining a concise summary of your teaching background. It is important to highlight your key attributes, as well as your qualifications and accomplishments for this specific teaching role and subject area.
Secondary Spanish Student Teacher and K-12 Spanish Education Major, with over 4 years of experience working with young people through volunteerism as well as classroom observations and practicum. Highly compassionate, strong organizational skills, patient, and ability to be work well and communicate effectively with children, parents, colleagues, and supervisors. Excited to take on my first full-time teaching experience as a High School Spanish Teacher and student advocate.
Student Teacher Education Section Example
As a current student teacher, the Education section on your CV is one of the most important sections. We suggest that you put more emphasis on it by positioning your Education section before your work experience section, but after your executive summary. Make sure to highlight the aspects of your academic background that directly align with your future job as a full-time teacher. List your degree and institution. Clarify that you are a current student by including the year you began studying and the word present. i.e.: (2015-Present). Include any special recognitions such as Latin honors or department awards.
Remember to incorporate what you studied, a.k.a your major/minor(s). Hiring managers are normally more interested in what your specific pedagogical speciality is, rather than where you gained said knowledge and expertise. For this reason, it is often more beneficial to highlight your educational studies major & speciality (elementary, secondary, science, language arts, etc.) than the college or university that you attended. Of course, if you went to an especially well-known and esteemed educational institution it is probably worth accentuating, along with your major/minor(s). Always keep in mind, that your goal is to display your experience and skills that make you an ideal teacher candidate for the specific teaching role that you are submitting an application for.
B.A. IN K-12 SPANISH EDUCATION | Illinois Wesleyan University
August 2015 - Present
As a full-time, day shift RN for Montreal General Hospital's Palliative Care Unit, I coordinate and deliver quality end-of-life/hospice palliative care for a 15 patient unit for up to 12 hour a day rotations.
Holding an exceptionally high academic standing (3.9 / 4 GPA).
Awarded Dean's List 6 consecutive semesters.
On track to graduate with Summa Cum Laude highest honors.
Accepted into Pi Lambda Theta, one of the nation's most prestigious education honor societies.
Student Teacher CV Work Experience Example
As a student without a lot of paid work experience as a teacher, hiring managers do not expect to see a lot of previous work experience. However, they are interested in knowing about your unpaid teaching experience, whether as a student teacher or as a volunteer. Thus, you can utilize your Work Experience section as a way to show off your previous experiences teaching. In this case, you can change the Work Experience section to "Teaching Experience." Make sure to include all relevant teaching experience and work experience related to the educational field. You may also list work or volunteer experiences that have transferable responsibilities, as well as required skills for a position as a teacher. If you do not have a lot of teaching experience outside of your student teaching, you may consider adding any observations or practicum experience that you completed during your educational studies program.
It is beneficial to provide a brief organization/employer description before listing your responsibilities and accomplishments for each position. You should describe the institution, school, or volunteer organization where you worked, what subject matter you taught, how many students you taught/mentored and their age range, and the number of times per week and hours you worked/volunteered.
Make sure to use action verbs specific to the educational field to describe your responsibilities as well as the skills that you used to accomplish your duties, and any specific methodology or technology employed. Do not simply list general tasks performed. Instead, mention your greatest accomplishments within each experience and try to measure them in numbers. Mention any particular honors or special recognitions that you earned or if your students achieved a special accomplishment. Ask yourself the following questions in order to quantify your teaching experience: How many students did I teach?, How many hours did I work?, How many teachers did I collaborate with, observe, or assist? By incorporating the answers to these questions and using your teaching action verbs, you will more effectively prove that you are an ideal candidate for the job!
STUDENT TEACHER | Bloomington High School - 01/2014 - Present
I am currently teaching six beginning to advanced secondary Spanish courses, with up to 25 students per class. I am fulfilling my Student Teaching requirements and gaining hands-on experience that I will be able to apply in my future career as a full-time Spanish Teacher.
Utilize a groundbreaking immersive foreign language teaching method, TPRS, 100% of the time.
Self-design 90% of lesson plans, content, and assessments.
Transition to full-time teacher with assistance from supporting teacher.
Learn effective styles of classroom management via effective engagement strategies and assigning student jobs.
Create a positive learning environment through kindness, patience, and mutual respect.
Cultivate professional relationships with faculty, students, and parents.
Attended the 2018 National TPRS Conference along with my supporting teacher, in order to prepare for my student teaching.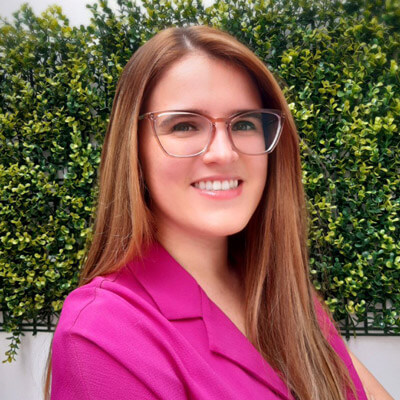 Coach & recruiter @kaelon.co and co-founder @cvonline.me