How to write an attention-grabbing customer service CV
An attention-grabbing customer service CV is one that enables recruiters and ATSs alike, to spot your communication and management skills as well as the most relevant roles in your career history, demonstrating how you have applied them as an active customer service team member or equivalent customer service positions.
One of the most common job hunting complaints is to be discarded before an interview even though you tick every requirement on the job post. This can only be due to 3 reasons:
You didn't include the right words to showcase your work experience and other sections
The format of your CV didn't highlight the right elements on your CV
Your CV format wasn't readable by ATS
Therefore, an interview-winning customer service CV has the perfect balance between the right format and the right content. Here we cover them both:
Customer service CV Format
A great CV format for customer service professionals highlights the right elements providing a friendly reading experience for recruiters and hiring managers while ensuring that all of its content is available to be extracted by applicant tracking systems ATS, software broadly used in the first stages of a hiring process to automatically select candidates that most likely meet the position's criteria.
While ATS can scan CVs with many pages, humans prefer to read concise one page CVs, therefore when possible, you should consider keeping your CV under one page.
Make it easy for customer service recruiters to easily get the information they need from your CV, include clear headers, and choose a template that provides a good reading experience and allows you to highlight certain elements with bold, or other text enrichments. Check out many CV template options designed with these goals in mind.
Add elements that provide a visual break to an otherwise all-text document. This can be integrated elements of the design like colors, lines, backgrounds etc., a hard skills section with a graph determining your proficiency, icons on section headers, or a section with icons and text.
Carefully pick the content on your customer service CV
In the upcoming section, we will cover the recommended sections for a successful customer service CV, but here we want to emphasize the need to create targeted CVs and rewrite certain parts of your CV to match every customer service role you are applying to. This is true for most industries, but especially important for customer service workers since there is a lot of different ways to refer to similar tasks depending on many factors like location, company culture, etc. For example, a customer service manager can also be referred to as a customer success manager or a customer care lead, therefore is important to determine what are the customer service keywords we will use in the CV.
Prior to starting writing your customer service cover letter or CV, it is mandatory to carefully read the job description or descriptions where you are going to be applying to. Identify the role's explicit and implicit requirements, and make a checklist with them. You are now ready to start typing, make sure to mention every requirement on your checklist somewhere in your CV. Some requirements you can mention explicitly, others you will have to add examples to showcase them.
Not sure yet? Let us explain with an example: The customer service executive CV example we have included at the beginning of this guide, has been written to apply to a couple of customer service roles in Saas companies, here you can see their job descriptions as well as the checklist of requirements the candidate extracted from them before jumping into writing the customer service executive CV or customer service assistant CV.
Basic Qualifications
Bachelor's degree in Business Administration, Journalism or equivalent
6+ years of experience working in a customer facing service delivery/technical account management role
Preferred Qualifications
Experience as a customer service assistant and/or executive in a Saas environment
Must possess excellent business judgment, and a practical, common-sense approach to getting things done
Intense customer focus and ability to think out of box
Exceptional verbal and written communication skills. Possess excellent judgement and strong attention to detail, problem solving, and a data-driven analytical approach
Experience with JIRA or equivalent agile software and methodologies
Well-honed troubleshooting skills at various levels of complexity
Ability to think innovatively and creatively about complex and technical problems
THE ROLE
Reporting to the Customer Service Manager, you will ensure excellent customer service delivered to both our customers and partners across every communication channel. You will manage a team of Customer Service Advisors to ensure productivity and delivery of service excellence. You will be a true ambassador for your team and for Bxxx while being a Customer Service expert and coach. Our Customer Service teams are important to our business and contribute to the growth of the organization across all lines of business, through customer engagement and expert product and service knowledge. This is a great opportunity for a Customer Service leader looking to further their career at Bxxxx.
What You'll Do
You will set clear goals for Customer Service Advisors and manage their performance
Monitor real-time workload and queues/backlog across all channels; reallocate team
You will be the point of escalation for the team for customer complaints and IT related support resolution
You will identify training needs, train Customer Service Advisors, and coordinate with the global training team for education
You will share relevant customer insights with the wider management team and other operational departments and come up with solutions that can help us solve customer pain points, based on the insights gathered
You will manage team attendance and report any discrepancies to Workforce Management
You will lead Kaizen/continuous improvement efforts with the team to guarantee a high level of service
You will work with global CS Supervisors to ensure consistency and understanding
You will participate in meetings, workshops, and training to review service performance and receive additional information and updates to be communicated across the team
CHECKLIST
Explicitly mentioned requirements
Agile methodologies Knowledge and/or experience
+6 Years' experience
Customer service experience with Saas
Business bachelor's degree
Experience dealing with customer complaints
Strong communication and customer service abilities and experience
troubleshooting skills
Creativity and Innovation
Experience identifying customer pain points
Experience managing teams in the customer service industry
Experience setting goals
Strong multitasking skills
Kaizen/continuous improvement
Implicit requirements
Experience managing international teams
Hands-on professional
Experience in B2B customer service
Experience following up with goal completion
Tech Savvy individual, experienced with databases, MySQL and CRMs
E-commerce experience is a plus
After gathering this checklist, the candidate started to write the diferent sections of her CV with them in mind, crossing them as she include examples to showcase them in her CV.
Explicit -vs- implicit requirements
Experience managing international teams

The second job description states that you'll be working with global CS supervisors, therefore, you can figure that having experience with teams internationally will probably be a nice thing to have on your CV.

Hands-on professional

From these 2 job descriptions we can extract that they are looking for a professional that isn't afraid of going beyond her/his "established duties" to satisfy customer needs and find solutions to reduce friction and increase customer satisfaction

Experience in B2B customer service

Checking their product, we can see that both saas companies are focused on B2B solutions

Experience following up with goal completion

the second job description focuses on setting goals for CS advisors under your management. It's common sense that goals aren't set in stone and never reviewed again. Goal tracking skills and methodology is evdiently required.

Tech Savy individual, experienced with databases and CRMs

Even though only a few software skills are stated as requirements in the job description, a lot of the mentioned tasks, require the use of certain tools to organize and execute them properly, therefore the candidate will list all the tools she's worked with.

Ecommerce experience is a plus

One of the companies sells to e-commerce SMEs, therefore, experience in e-commerce will be highly valued, even though they don't state it in the job description.
Finally, before we dive into the structure of an executive or a customer service assistant CV, let's talk about the action verbs that customer service employees should be using on their CV. These verbs among others, send the message of a hands-on, creative, thoughtful, and loyal employee, trustworthy to represent the company in interactions with customers being able to mitigate poor customer experiences, and even transforming customer frustrations into compliments.
Achieved
Analyzed
Arbitrated
Boosted
Built
Capitalized
Coached
Conserved
Consolidated
Consulted
Controlled
Converted
Coordinated
Cultivated
Customized
Decreased
Delivered
Designed
Developed
Diagnosed
Educated
Enhanced
Established
Evaluated
Exceeded
Executed
Expanded
Facilitated
Formulated
Fostered
Generated
Guided
Identified
Improved
Influenced
Integrated
Interpreted
Introduced
Lessened
Measured
Operated
Organized
Outpaced
Outperformed
Persuaded
Planned
Promoted
Quantified
Reconciled
Redesigned
Reduced
Resolved
Reviewed
Simplified
Succeeded
Surpassed
Surveyed
Targeted
Taught
Tracked
Trained
Customer service CV Example that stands out
Download customer service CV example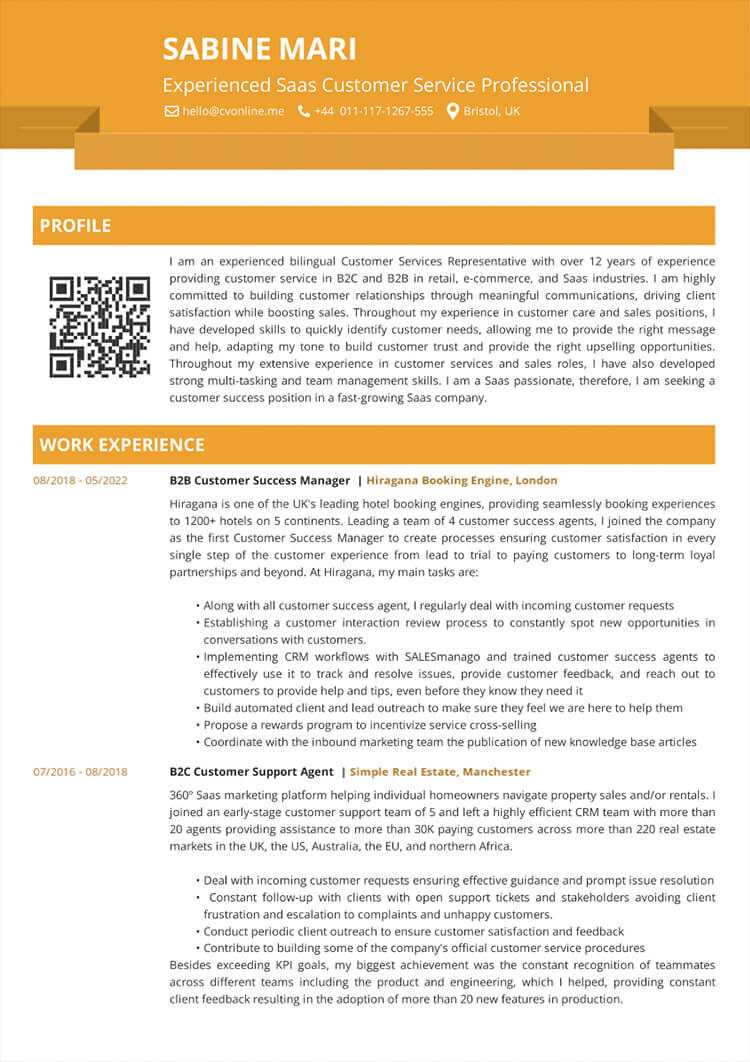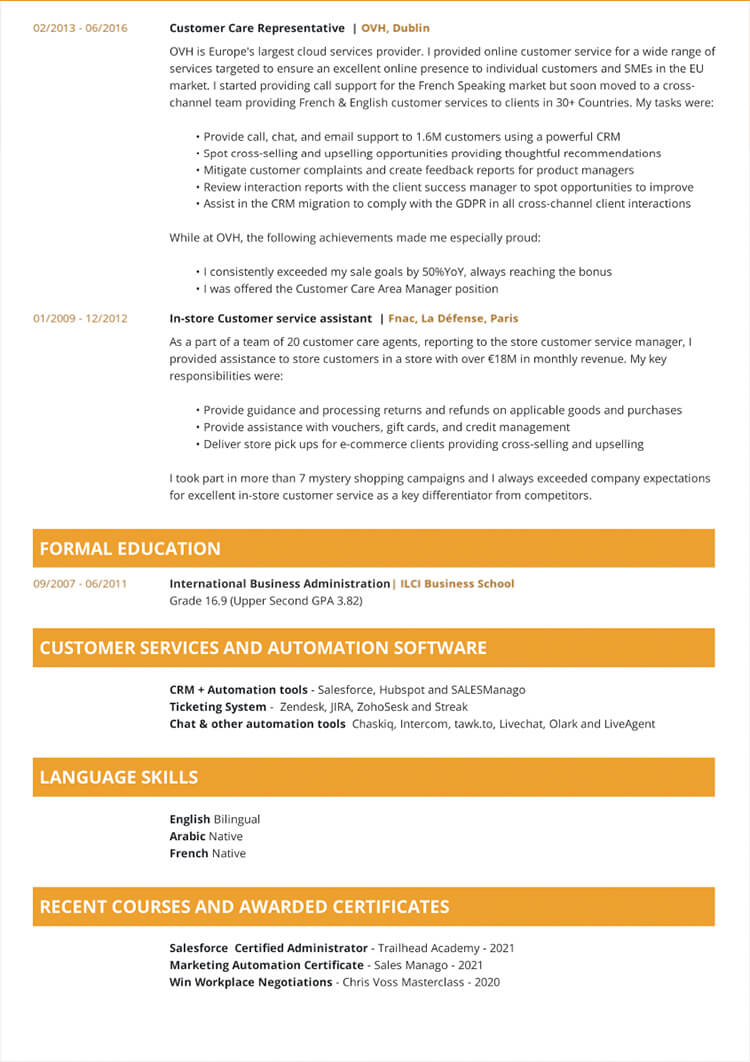 Customer service CV structure
Regardless of the CV format, a good customer service resume should include the candidate's contact details with a one-liner that stands out, and lots of details about your customer service skills and experience in the work experience industry or field. The best way to showcase this last element is without any doubt an outstanding work history section along with a brief customer service CV profile.
So, without further ado, let's dive into each one of these elements:
Customer Service CV Header
The goal of the CV header is none other than to introduce your name and contact details to reach out to you. With the motto "less is more" in mind your customer service assistant CV Header should include at least the following elements:
Your Name and surname
A CV Headline or Job title, also known as a one-liner
A phone number or work contact number
A professional email address
The geographic area where you are located or where you are looking for a job
In the UK you shouldn't include a photo but if you are applying to customer service jobs in other locations it might be a good idea to include one
Here you can see some examples of good practices when writing your CS CV headline:
Experienced Saas Customer Service Professional
Customer service agent with extensive front line support experience
Sales-driven customer service advisor
IT customer service assistant with over 4 years of experience
Customer Service Professional
Front line support worker
Customer service Advisor
Customer service assistant CV
Surprisingly lots of job seekers use the words "curriculum vitae", "resume" or "CV" within their CV header, there is no need to do that, recruiters know what they are looking at, and make proper use of every space in your CV.
Customer Service CV Profile or Personal Statement
Despite being a very important section, the profile or personal statement, also taking names like CV introduction, executive summary, about me, etc. is a section broadly misused section by job seekers.
A customer service CV introduction should give recruiters some context on your career and how you are perfect for the position at hand. Briefly state what's your job title, how many years of experience you have, what are your most important skills, which type of work you specialize in, and above all, what sets you apart. Don't repeat information they can find in the work experience section, be unique and highlight your most impressive achievements.
Place this section on the top quarter, preferably right between the CV header and the work experience. It would be fair to think about this section as a shorter version of your cover letter, where you want to incentivize the reader to read the rest of your customer service executive CV and call you for an interview. At the end of the day, that is what a customer service cv profile should achieve.
Personal Statement
I am an experienced bilingual Customer Services Representative with over 12 years of experience providing customer service in B2C and B2B in retail, e-commerce, and Saas industries. I am highly committed to building customer relationships through meaningful communications, driving client satisfaction while boosting sales. Throughout my experience in customer care and sales positions, I have developed skills to quickly identify customer needs, allowing me to provide the right message and help, adapting my tone to build customer trust and provide the right upselling opportunities. Throughout my extensive experience in customer services and sales roles, I have also developed strong multi-tasking and team management skills. I am a Saas passionate, therefore, I am seeking a customer success position in a fast-growing Saas company.
Personal Statement
I studied international business administration at ILCI Business School while I working at Fnac as an in-store Customer service assistant. Besides being my career starting point, it was a customer service resume builder that allowed me to jump to OVH's call center first in Paris and then in Dublin, where I was a Customer Care Representative for many European markets. After that, I worked as a B2C Customer Support Agent for Simple Real State, 360º Saas marketing platform helping individual homeowners navigate property sales and/or rental. My last job has been as a B2B Customer Success Manager at Hiragana, a hotel booking engine.
The second example is just a summary of the candidate's job history, and while it provides some insightful information, lacks context and relating it to the job at hand.
Work Experience section
By listing your most recent and related experiences you can showcase how have you previously applied your skills, this is true whether you have proven experience in customer support departments, or you have other types of experience. If that's your case, focus on experiences and tasks with most customer service transferrable skills.
List the most recent 3 or 4 experiences, focusing on those most relevant for the job at hand. If you have a longer career, you don't need to list all your working history on your CV, instead, include a link with a call to action to visit your Linkedin profile and/or your online CV.
Besides the company name, position you had, and the dates, make sure you include a description for each one of your work experiences on your CV. Remember, this is the place to showcase your ability to provide users with assistance, deliver meaningful customer experiences and deal with stressed customers, etc. as well as mentioning the most especially achievements, quantifying them with numbers when possible.
Here you can see an example:
WORK EXPERIENCE
07/2016 - 08/2018
B2C Customer Support Agent | Simple Real State, Manchester
360º Saas marketing platform helping individual homeowners navigate property sales and/or rentals. I joined an early-stage customer support team of 5 and left a highly efficient CRM team with more than 20 agents providing assistance to more than 30K paying customers across more than 220 real estate markets in the UK, the US, Australia, the EU, and northern Africa.
Deal with incoming customer requests ensuring effective guidance and prompt issue resolution
Constant follow-up with clients with open support tickets and stakeholders avoiding client frustration and escalation to complaints and unhappy customers
Conduct periodic client outreach to ensure customer satisfaction and feedback
Contribute to building some of the company's official customer service procedures
Besides exceeding KPI goals, my biggest achievement was the constant recognition of teammates across different teams including the product and engineering, which I helped, providing constant client feedback resulting in the adoption of more than 20 new features in production.
02/2013 - 06/2016
Customer Care Representative | OVH, Dublin
OVH is Europe's largest cloud services provider. I provided online customer service for a wide range of services targeted to ensure an excellent online presence to individual customers and SMEs in the EU market. I started providing call support for the French Speaking market but soon moved to a cross-channel team providing French & English customer services to clients in 30+ Countries. My tasks were:
Provide call, chat, and email support to 1.6M customers using a powerful CRM
Spot cross-selling and upselling opportunities providing thoughtful recommendations
Mitigate customer complaints and create feedback reports for product managers
Review interaction reports with the client success manager to spot opportunities to improve
Assist in the CRM migration to comply with the GDPR in all cross-channel client interactions
While at OVH, the following achievements made me especially proud:
I consistently exceeded my sale goals by 50%YoY, always reaching the bonus
I was offered the Customer Care Area Manager position
01/2009 - 12/2012
In-store Customer service assistant | Fnac, La Défense, Paris
As a part of a team of 20 customer care agents, reporting to the store customer service manager, I provided assistance to store customers in a store with over €18M in monthly revenue. My key responsibilities were:
Provide guidance and processing returns and refunds on applicable goods and purchases
Provide assistance with vouchers, gift cards, and credit management
Deliver store pick ups for e-commerce clients providing cross-selling and upselling
I took part in more than 7 mystery shopping campaigns and I always exceeded company expectations for excellent in-store customer service as a key differentiator from competitors.
WORK EXPERIENCE
08/2018 - 05/2022 | B2B Customer Success Manager - Hiragana Booking Engine, London
07/2016 - 08/2018 | B2C Customer Support Agent - Simple Real State, Manchester
02/2013 - 06/2016 | Customer Care Representative - OVH, Dublin
01/2009 - 12/2012 | In-store Customer service assistant - Fnac, La Défense, Paris
02/2006 - 01 /2009 | English Teacher - Freelancer
05/2008 - 09/2008 | Waitress - Croc' & Gourmandises
Including customer service skills in CV
We have been emphasizing the need to showcase your skills in action in your CV from the beginning of the article, you've highlighted your most important skills in your personal statement, going into the specifics about your knowledge and skills on certain tasks, techniques, and tool usage on your work experience descriptions.
So, should you list your skills in a separate section? While hard skills can be listed in your CV in a list whether this includes graphics to quantify your domain or simply listing them. Examples of hard skills for a customer service agent cv are specific software skills, language skills, and certain methodologies or customer care common processes like call reviews, consultive sales, etc.
Soft skills, on the other hand, shouldn't be listed in your CV, instead, you should exemplify the use of your soft skills in action, preferably in the workplace, in previous experiences in customer care. There is an exception to this: if you have limited customer service experience, you can list soft skills, as long as you describe them or give specific examples.
Examples that showcase really valuable soft skills on a customer service agent CV include Your communication skills, especially the ability to listen, empathize and read customers in order to anticipate their needs, the resilience and capacity of staying calm in front of the adversities, the creativity to always suggest new solutions, the ability to taking feedback, etc.
Check out the following example to better understand how to list soft skills on a customer service CV if you are a candidate without customer service work experience:
Soft Skills section example:
My Skills
Tech Savvy

Throughout my career I've successfully used CRM software like Salesforce, SALESManago, Intercom Zendesk, Zoho desk, just to mention some and I am also proficient with relational database and SQL.

Great communication skills

Whenever I'd be part of a team project in school or university I was almost always chosen by my classmates to present in public, and when I kickstarted my career in this skill has been really helpful

Great time-managing skills

Prioritization is an essential skill when you deal with customer issues and complaints. Especially in B2B customer service, reaching out to customers to provide updates on opened tickets is crucial, in order to perform these updates, I have found that a combination of the right tools, organization skills and being meticulous is essential.

Great problem-solving skills

Transform customer complaints into compliments is something is an ability I have developed over my experiences, from my early years when I was a waitress to my B2B customer success manager role. Clients want 1- To be listened and taken seriously, and 2- they want their problem solved. So just by staying calm, listening and identifying customer needs, I have been able to de-escalate complex situations even turning them into compliments.
My skills
Great communication skills
Great time-managing skills
Great problem-solving skills
The education section
The formal education section should be short and sweet, check out the following example to get some ideas on what to do and what not to do:
Don't mix this section with short-term courses and workshops, if you want to include relevant courses and workshops, include them in a new section under the name of "Complementary education"
Formal Education
09/2007 - 06/2011 | International Business Administration ILCI Business School
Complementary Education
Marketing Automation Certificate - Sales Manago - 2021
Trailhead Academy - Salesforce - 2021
Masterclass Win Workplace Negotiations by Chris Voss - 2020
Education
09/2007 - 06/2011 - International Business Administration | ILCI Business School
Marketing Automation Certificate - Sales Manago - 2021
Trailhead Academy - Salesforce - 2021
Masterclass Win Workplace Negotiations by Chris Voss - 2020
Additional sections
There isn't a limit of sections to include on your CV, the only limit is their relevance. If a section makes sense to showcase your ability with certain skills on your checklist, go ahead and include it. For example, the "Hobbies and Interests" section, can contain extracurricular activities showcasing your leadership skills, etc. The same happens with "Volunteer experience" it often is a good way to show that you care for the community while highlighting your work ethic as well as your organization and communication skills.
Another section that you should probably consider including in your CV is your language skills, not everybody speaks more than a language, so this can always set you apart and it doesn't take up much space on your CV.
Should I include the references on my CV?
If you've got space, it isn't a bad idea to include a section with a couple of references, including their names and positions, don't include their contact details on your CV, just a short message stating that you can provide it under request.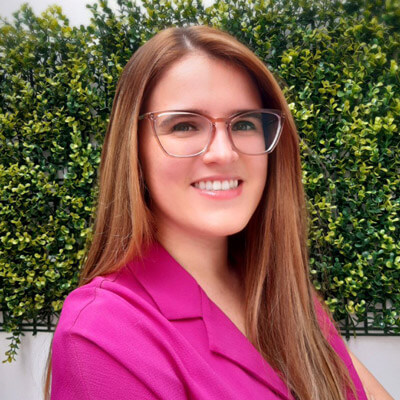 Coach & recruiter @kaelon.co and co-founder @cvonline.me