How to write a great Marketing CV
Since our precise job is to promote products and services, marketing specialists are expected more than other professionals to have an outstanding CV to promote ourselves. If you are applying for marketing roles, and you are not getting interviews, you are most likely making one of the following errors:
Applying with a CV that is too broad, containing irrelevant information and lacking key relevant skills
Failing to mention all your relevant marketing skills for that specific job vacancy
Applying to a job you are not qualified to do. Meaning you can't add relevant transferable experiences and skills to your CV / cover letters
In this guide, you'll find all the best practices to craft the best marketing CV and change your fate with marketing employers, whether marketing agencies or client.
Marketing professionals tend to be curious and versatile, and many of us have worked with many different marketing channels, however it's important to note that specialization seems to be the key to succeed. Therefore, If that is your case, and you are not applying to a marketing manager role, in order to get the interview, you should target your CV to the job vacancy at hand.
With that purpose, it is crucial to carefully read and analyze the job description in order to extract explicit and implicit requirements as well as the company's culture and expectations for the role. As a digital marketer, you could compare it to extracting an ideal candidate persona.
Segmenting your marketing CV
Drop the one fits all approach to job search. As in every marketing channel, segmentation is also key in the case of your CV. With the ideal candidate persona in mind, build different versions of your CV and use it like a marketing tool to promote yourself as the ideal candidate. Our advice is to start with a master CV, and create variations from it:
Your main CV
Your main CV is a broader version of your marketing resume, something like a wildcard CV. If you are a channel specialist, and you are only looking for positions in a specific marketing field, this CV will actually be the same as your field-specific CV.
But, if you are more of a broader marketer, that feels comfortable managing many promotion and acquisition channels, the main CV is a version of your marketing resume where you show off all the marketing and management skills that a good marketing specialist or marketing director needs.
Field-specific CV
If you are an omnichannel marketing specialist, and you are only looking for a new role in a specific marketing field, you will probably only have one field-specific CV. On the other hand, if you are looking for positions in different marketing fields, you should most likely have more than one field / industry specific CV to promote yourself as a specialist in each of these fields, highlighting your experience with each specific channel, above other experiences.
For example, an SEA specialist, looking exclusively to land a job as SEA/PPC specialist will only have one main CV showcasing her/his experience and SEA credentials in PPC search marketing and other relevant channels if she/he has some.
An SEM specialist, on the other hand, should have a CV promoting herself / himself as a SEM Specialist highlighting experiences in both SEA and SEO, as well as a couple of extra job/industry specific CVs, one to promote herself / himself as an SEO specialist and another one to promote herself / himself as an SEA specialist.
Your field-specific CV or your main CV will serve as a sort of "master CV" from which you'll create your vacancy-specific CVs for every job you will be applying to. All you'll have to do is tweaking a few phrases in key sections of your marketing resume.
Vacancy-specific CV
A vacancy-specific CV is a version of your CV that is targeted to the specific marketing job or vacancy you are expecting to get an offer for. In order to write a great vacancy-specific marketing CV, make sure you read the job description, as well as exploring their current marketing strategies and the company culture. Then use the different sections on your marketing resume, to ensure it matches their 'ideal candidate persona' presenting yourself as a great fit to the company culture.
How to write a marketing CV without experience
If you are a marketing professional without work experience, making a marketing CV gets harder, but not impossible. Before we jump into it, let's review your statement, do you really don't have any marketing experience? Most likely, you have very little marketing experience, but you have some. Internships and any other kind of marketing work can be included within the work experience section of your marketing resume.
If you are really a candidate without any marketing experience, don't panic, you can still make a great marketing resume to be considerate for entry-level marketing jobs. How? Use the different CV sections to tell your story, explain to them why are you interested in marketing. Tell them all about your experience with marketing school assignments, and use any other work experience you might have to highlight transferrable skills that apply to the job description, at hand.
It's often hard to get your foot in the door, therefore, we highly recommend that, in the event that you feel behind on job description requirements, you take action to catch up with these requirements. There are many different ways to do so:
Applying for an internship, even if you have already completed your education. Many people wrongly think that apprenticeships are only for college students, but the truth is that many programs accept recent graduates. In addition, many internships tend to lead to full-time positions, but even if they don't, you are there to gain experience.
Another way to learn by doing is to take advantage of the immense opportunity that online education represents, find the skills you lack confidence with and find training courses to improve it. There is a lot of free online education materials around digital marketing, check for instance the Google certifications. But don't stop there, get your hands dirty, start a side-project to test what you've learned and seeing first hand how it applies to the real world.
Something else that you can do to apply your digital marketer skills and gain experience to land a job is to put them at the service of a cause, becoming a volunteer to help non-profit organizations reach their target audiences and ultimately improving their KPIs on their sites and/or their social mediapresence. There is programs that can help you start promoting NGOs for free like Google Grants.
Marketing CV format
Many marketing resume samples can be found online, however one could compare a marketing resume example to an ad creative; if the ad creative fails to highlight the right key message or goes unnoticed, the ad campaign will fail to achieve its goals, no matter how good the product or service that is being advertised really is.
Likewise, you can increase the CTR of your CV by using a marketing resume format that portraits your professionalism and creativity.
In this day and age you've got no excuse, you can easily design a standout marketing resume with tools like Adobe Illustrator or Adobe Photoshop or you can use an online CV builder that makes the process so much easier, helping you pick a standout CV template that can be easily edited even without any design skills.
Did you know portfolios are a thing when job hunting for marketing roles? You can use Behance or build your own impressive microsite with a website builder such as Squarespace or Wix. These portfolios are a good addition to your CV further show your skills in action, but never a substitute for it. In fact, there is a really cool and effective way to add your portfolio to your marketing resume. way to QR codes
Marketing CV content tips
You can find tips for every section on your marketing resume here, but before, let's review some general advice, often overlooked by marketing specialists applying to technical, managerial and even marketing manager jobs:
Use concrete examples to back your skills and accomplishments. Concrete growth numbers are always a must-have, more so in the case of marketing campaign KPIs.
Use action verbs to describe tasks and to summarize your career, experience and accomplishments.
Don't ever use the third person tense in your CV, it is very unprofessional to say the least.
Avoid using the pronoun "I" too many times, for example when listing your job duties and accomplishments, introduce the list with a sentence and then start your bullet points directly with the verb.
Using action verbs such as achieve, accelerate, increase, double, build or develop, will boost the chances of your marketing resume to standout.
Should you use past or present tenses? This is a very common question among marketing professionals. The answer is pretty straightforward, and most of you probably guessed it : use past tense for past experiences and present for the positions you currently hold.
Marketing CV Examples
Here you can see a couple of marketing resume examples, from a marketing specialist both, with and without experience, as well as a sample from a marketing director. You can download them, or you can use our editor to create one like theirs.
Marketing Manager CV Example
CMOs and digital marketing manager resumes should ideally contain a combination of managerial skills and experience as well as proof of technical knowledge. Even though, most marketing manager roles don't include technical implementations, hiring managers agree that digital marketing skills and technical experience is a must, specially for a digital marketing manager, to act as a role model for the marketing team, lead efforts and provide assistance to digital marketers.
In addition, experience in effective public relations efforts, is one of the most valued marketing manager skills that you can have on your marketing executive CV.
Download marketing manager CV example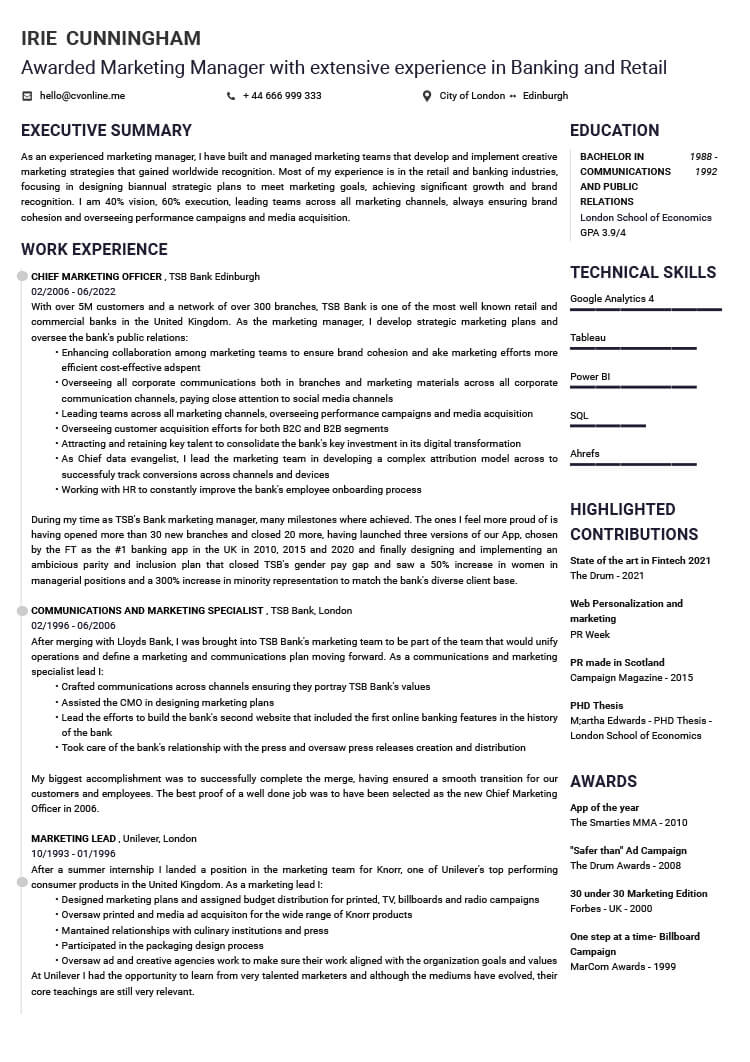 Marketing Specialist CV Example
Download marketing specialist CV example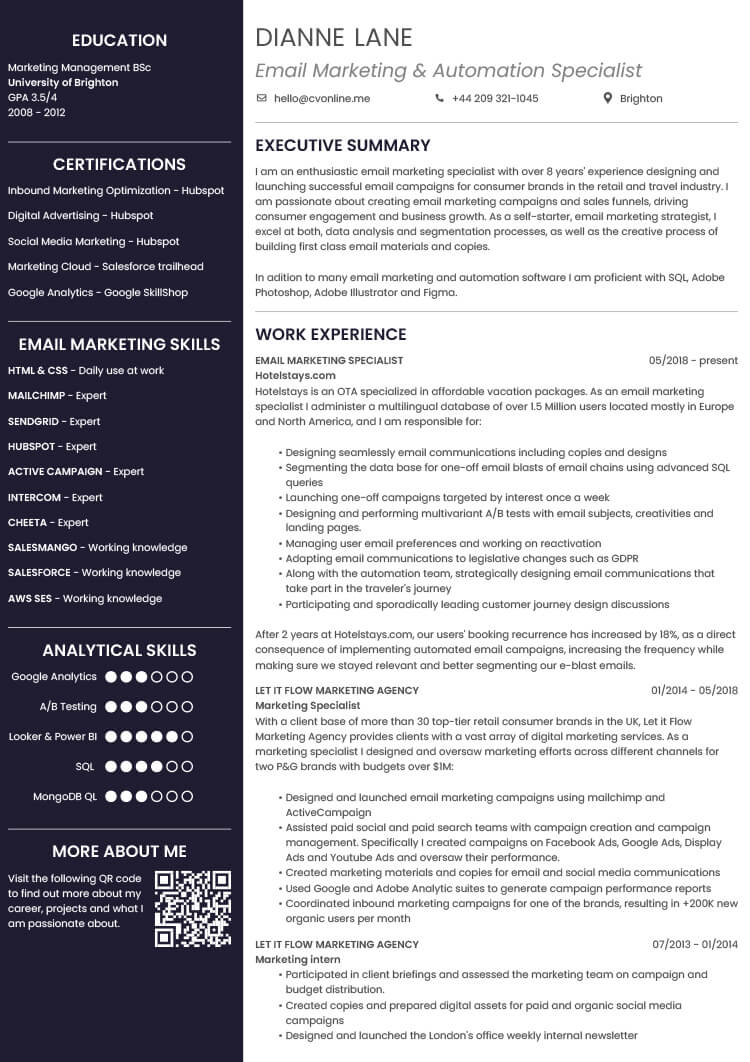 Digital Marketing Specialist Without Experience CV Example
Download CV example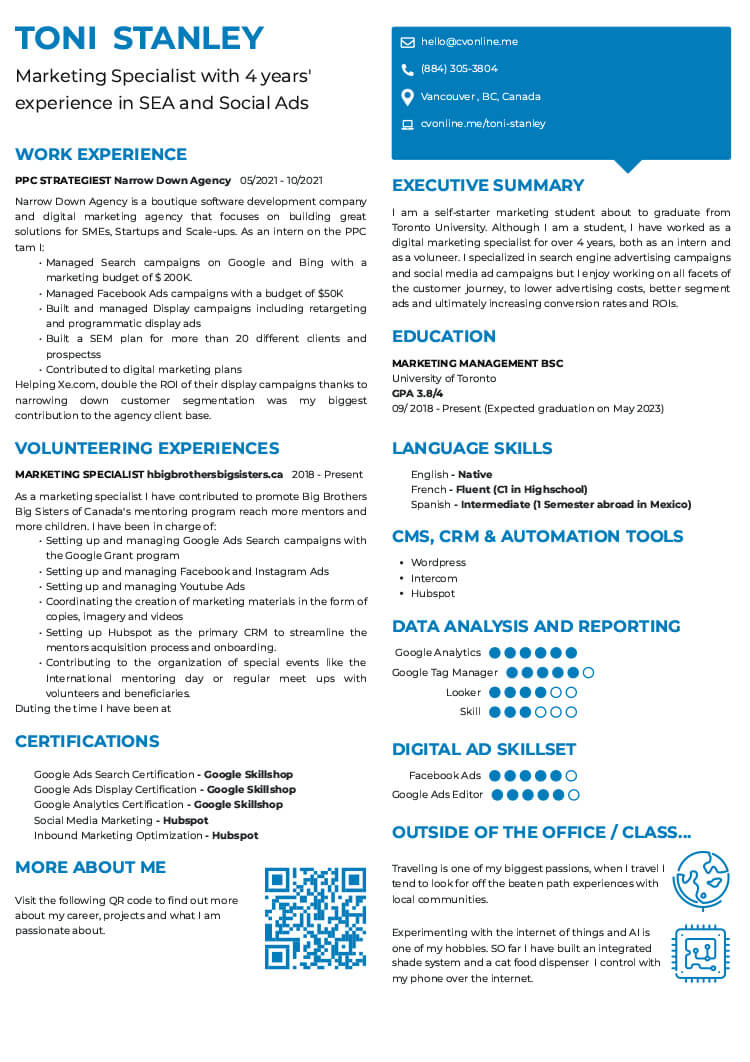 Marketing CV structure
Rightly structuring a CV makes the job of hiring managers so much easier, but it also benefits you as a candidate, since it makes you stand out delivering your story in a way that highlights your most valuable hard skills and soft skills making sure they are picked up by hiring managers.
A good digital marketing CV starts with your contact details and a personal profile section, that introduces you as the best candidate for the job vacancy, contains your most relevant work experience, education, marketing training courses, certificates and a list of the most relevant technical skills required for the vacancy.
Let's unpack critical information to successfully add these elements to your CV:
An impactful Headline
Along with the essential contact details that include your name, last name, email address, phone and location, it is recommended to add an impactful CV headline that acts as a teaser.
Add social media profiles to your CV header if they are relevant to the job vacancy you are applying to. For example, adding your linkedin profile link makes sense both for marketing executives and marketing specialist. However, adding the link to your Twitter or Instagram account will only make sense for subject matter experts that use their profiles in those social networks to share and engage with professional posts around their expertise topic, like for example social media executives do.
The headline should be a straight one-line phrase, linking you to the job vacancy and giving away a key attribute that makes you a great candidate. Don't panic, following you can see some marketing resume examples with good and bad headlines:
Digital Marketing Manager - Experience with large web traffic volumes
SEO analyst specialized in tech news sites
Marketing and PR Specialist with focus on Social Media Channels
Fashion marketing assistant with experience in Macy's and Asos
Marketing Manager and Brand Worrior with over 10 years' experience
Digital Marketing Manager
Marketing expert
Chief Community Manager
Fashion marketing assistant
Marketing Director
A Personal statement
Also known as personal profile or executive summary, the personal statement section consists of a one / two paragraph text at the very top of your resume, right after the CV header. This is an essential section and should encompass your core competencies focusing mostly on your career journey. Many people describe this section as small cover letters targeted to the specific role you are willing to fill. Thus, its content will depen on each position, however, there is some common elements that you shouldn't miss. Here are some expert tips on what to include in your personal statement:
The years of experience in the industry
Key hard skills and soft skills that set you apart
Key accomplishments woth mentioning
Marketing trends you are an expert or passionate about and follow thoroughly
Personal Statement
I am an enthusiastic email marketing specialist with over 8 years' experience designing and launching successful email campaigns for consumer brands in the retail and travel industry. I am passionate about creating email marketing campaigns and sales funnels, driving consumer engagement and business growth. As a self-starter, email marketing strategist, I excel at both, data analysis and segmentation processes, as well as the creative process of building first class email materials and copies. In adition to many email marketing and automation software I am proficient with SQL, Adobe Photoshop, Adobe Illustrator and Figma.
Personal Statement
I am an email marketing specialist with proven experience in the retail and travel industry. I can work with both data analysis and segmentation processes. And I am good with copy writing and image editing as well. I am currently looking for an opportunity and would be thrilled to join your team as an email marketing specialist.
Marketing & Interpersonal Skills
Interpersonal skills also known as soft skills, are not only fundamental marketing manager skills, they are also very important skills for all marketing jobs. Therefore, marketing recruiters will scan your curriculum vitae looking for your interpersonal or soft skills during during the early stages of a hiring process.
Which soft skills should a marketer include in their resume? These are some key soft skills that must be a part of your marketing director resume or marketing specialist resume:
Creativity
Effective communication skills
Project and time management
Empathy
Negotiation / persuasion
Versatility / adaptability
Aesthetics and design skills
Although they can be improved with practice, interpersonal skills can't generaly be taught.
On the other hand, hard skills are technical skills that are taught and learned. We are talking about competences related with certain process, software or tools used to generate, track and measure ad campaigns performance.
As the border between a digital marketing CV and a marketing CV gets blurrier every year, until it will eventually disappear, hard skills are also a must of any marketing resume, including a marketing director resume, since although she or he isn't normally going to execute, it is still an essential part of her / his job to oversee all marketing efforts and jump in if necessary. This is harder to do if you don't have the necessary technical skills.
Here are some core marketing skills, but please note that a CV isn't a spree to include as much hard skills as you possibly can, all the skills included in your marketing resume, should make sense and be align with the vacancy at hand:
Content Management Systems (CMS) such as Wordpress or Shopify
Client Relationships Management (RM) tools tools such as Hubspot or Salesforce
Email marketing and automation tools such as Mailchimp or Intercom
Ad and Social media campaign management such as Google Ads, Bing Ads or Facebook Ads
Web Analytics tools such as Google or Adobe Analytics
Data Analysis and data analytic tools such as Looker, Power BI or Tableau
MarkUp and Style languages such as HTML and CSS
Data base management languages such as SQL or MQL
A/B testing tools such as Optimizely or Google Optimize
UX design and design software such as Figma or Sketch
UX Research and customer insight survey tools
Inbound marketing content and strategy optimization
Conversion Rate Optimization techniques
Market trends analysis and tools such as Buzzsumo or Google Trends
Search Engine Optimization techniques and tools such as Google Search Console, Ahrefs, etc.
Video editing skills and software such as Adobe Premier, Final Cut Pro or After Effects
Image editing skills and software like Adobe Photoshop or Adobe Illustrator
How to add soft skills on a marketing CV
Interpersonal skills are hard to measure since there is a large subjective component to them, therefore, you should avoid adding these skills as bullet points. Why? Well, think about it: everybody can say they have great empathy, however, not everybody can say they have discovered advanced customer segments that have unlock x Millions in revenue.
Instead soft skills should be included implicitly in other sections of your CV, mostly in your personal profile and work experience sections.
Soft Skills should never be quantified using graphics or any other number.
How to add hard skills on your marketing CV
Even though hard skills can be included in your resume with a bullet point list and even quantify them with a graphic, best practices teach us that we should also include examples where we can demonstrate that we have used them, so that hiring managers can see them in action.
So, it is ok to add a technical skills section in your marketer CV, and even more than one section categorizing skills, but you should also add examples for the most important ones within your resume sections.
Here you can see a couple of examples of what to do and what to avoid:
EXECUTIVE SUMMARY
As a self-starter, email marketing strategist, I excel at both, data analysis and segmentation processes, as well as the creative process of building first class email materials and copies. Throughout my career I have managed campaigns that generated over $10M in revenue
ANALYTICAL SKILLS
Google Analytics ●●●●●○
A/B Testing ●●●●●○
Looker & Power BI ●●●●○○
SQL ●●●●●○
MongoDB QL ●●○○○○
WORK EXPERIENCE
EMAIL MARKETING SPECIALIST - Hotelstays.com - 05/2018 - present
Segmenting the data base for one-off email blasts of email chains using advanced SQL queries
Designing and performing multivariant A/B tests with email subjects, creativities and landing pages.
HARD SKILLS
Managing marketing budgets
Customer segmentation
Analytical skills
SOFT SKILLS
Effective communicator
Self-Starter
Team builder
Work Experience in a Marketing CV
As we pointed out when we explained how to make a marketing CV without experience, when applying for a marketing role, your experience is a key element for hiring managers. Therefore, your Work Experience section should include the most transferrable experience you have for the job at hand, it doesn't matter if it's as a full-time or part-time employee, as an intern, as a freelancer or as a founder.

Experts agree that 3 to 4 work experiences is the ideal amount you should include in your CV. If you have more experiences, prioritize the ones that are more relevant and add a note at the end of the section stating thatr you have more experiences, with a link to your Linkedin profile or online CV where more information on these experiences can be found.

Work experience descriptions are crucial to showcase marketing skillset in action, including both soft and technical skills, as well as your biggest accomplishments.

Accordingly, you can use the following structure to a every of your experiences:

A header with:
The position or role
Name of the company
The role's start and end dates
A work description with:
A very brief introduction of the company and the team you were part of.
Your main responsabilities
Your biggest accomplishments while in the job
Work experience aren't monolithical, meaning, you can adapt them depending on the industry and job you are applying to. For example, if one of your experiences was as a Community and Ads Manager, and you are now applying to a SEM & Social Media Ads Position, your work description can focus more on your tasks and accomplishments related with Ads Management and the other way around.
WORK EXPERIENCE
02/1996 - 06/2006
COMMUNICATIONS AND MARKETING SPECIALIST | TSB Bank, London
After merging with Lloyds Bank, I was brought into TSB Bank's marketing team to be part of the team that would unify operations and define a marketing and communications plan moving forward. As a communications and marketing specialist lead I:
Crafted communications across channels ensuring they portray TSB Bank's values
Assisted the CMO in designing marketing plans
Lead the efforts to build the bank's second website that included the first online banking features in the history of the bank
Took care of the bank's relationship with the press and oversaw press releases creation and distribution
My biggest accomplishment was to successfully complete the merge, having ensured a smooth transition for our customers and employees. The best proof of a well done job was to have been selected as the new Chief Marketing Officer in 2006.
WORK EXPERIENCE
02/2006 - 06/2022 | CHIEF MARKETING OFFICER - TSB Bank Edinburgh
02/1996 - 06/2006 | COMMUNICATIONS AND MARKETING SPECIALIST - TSB Bank, London
10/1993 - 01/1996 | MARKETING LEAD - Unilever, London
Education & certifications
Due to the fast passed nature of digitalization and the advertising industry in general, marketing education programs are constantly working to keep up with upcoming market trends. Most marketing positions don't require specific education and if they do they tend to require a Bachelor's degree in marketing, communications, business or a related field. Our advice is that this never detours you from applying to a job. Marketing professionals come from a lot of different backgrounds.
If you have a higher education degrees, don't hesitate to add a section to add them but don't include your prior education. On the other hand, If you don't have higher education but you do have a highschool diploma add it in the "Education" section
In addition to your formal education it's a good idea to add field related certifications and training. Additional qualifications courses should be added in a separate section, never in the same section as your degrees.
FORMAL EDUCATION
2008 - 2012 | Marketing Management BSc University of Brighton
CERTIFICATIONS
Inbound Marketing Optimization - Hubspot
Digital Advertising - Hubspot
Social Media Marketing - Hubspot
EDUCATION
2008 - 2012 - Marketing Management BSc | University of Brighton
2020 - Inbound Marketing Optimization - Hubspot
2020 - Digital Advertising - Hubspot
2020 - Social Media Marketing - Hubspot
Additional sections
We can't stress enough that your marketing resume is about showing off your skillset and marketing experience. This experience can of course come also as a volunteer for an NGO or other organizations or within side-projects, these are always good playgrounds to test new marketing trends and make experiments. Thus, a volunteering section or a side-projects section are welcomed, more so if you lack specific work experience in the field at hand.
But there is actually endless possibilities, there isn't a one-size fits all rule, other interesting sections for a marketing CV are publications, language skills, events management, contributions, etc.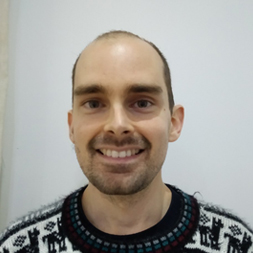 Co-founder, product owner and marketing specialist @cvonline.me