How to write a waiter / waitress CV
Good restaurants and other food establishments in the hospitality industry, think of their menus as a marketing document to sell their delicious options to their clientele. And that's exactly how you should see your waitress CV / waiter CV. Carefully read the job descriptions to better understand what is the establishment looking for in their waiter or waitress frontline staff is key. Once you have a clear understanding of who is your potential employer, you have a list of their ideal candidate's skills and basic job requirements, it's time to find the best CV format, write a short description about you highlighting why are you the perfect person for the job, and finally start matching each one of the preferred skills with your skills, studies and previous experiences in different sections.
If you want to substantially increase your chances of getting an interview and/or trial shift, go the extra mile: Beyond reading the job description, do some research about the establishment or institution: what's their ambience like?, what's their signature dish, drink or event?, what does their employer brand tells you about them?, what do they stand for?, what do they feel proud of?, what's their marketing like?, etc. Even if you live in the same city, why don't you go check it out?
The best CV format for a waitress / waiter
And just as it happens with restaurant menus, choosing the right waiter CV format is crucial. The goal of your waiter CV is non-other than helping you present your previous work experience, quality service skills and mindset, in a way that captures the attention of both hiring managers and recruiting software alike.
To do so, you need to find the right balance: if your CV is too plain, there is a big chance it will blend in with the rest of CVs that look the same being harder to read by a human, specially after having read hundreds of them, and if your CV has too much formatting and isn't done right, chances are a software could miss on some of its content. See if you can see the difference between the waiter CV sample on the right and the one on the left by dragging the green dot: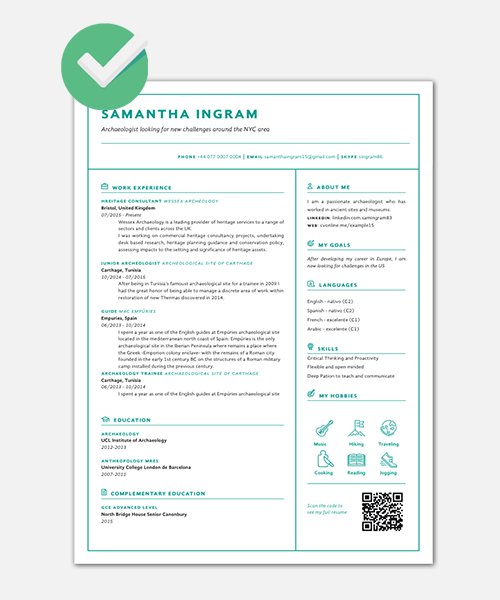 One of the MUSTs of a waiter CV format is that it lets you set up distinct sections with a clear heading in order to add and as many sections as you need in order to summarize your excellent communication skills, your work history and food service industry skills, aligning them with your objective and more importantly with the job requirements of the restaurant positions you are applying to.
Action verbs for waiter / waitress CV
Action verbs are brilliant idea to enhance your CV content. Here we attach a non-exclusive list of action verbs that will boost your CV's chances:
Achieved
Acquired
Advised
Aligned
Aligned
Assessed
Boosted
Built
Calculated
Coached
Completed
Controlled
Created
Cultivated
Customized
Decreased
Delivered
Designed
Directed
Enabled
Enhanced
Ensured
Established
Evaluated
Exceeded
Expanded
Facilitated
Forged
Gained
Generated
Guided
Hired
Implemented
Improved
Incorporated
Instituted
Launched
Lifted
Maximized
Mentored
Motivated
Negotiated
Orchestrated
Organized
Outperformed
Oversaw
Partnered
Planned
Promoted
Publicized
Reached
Reduced
Refined
Reorganized
Revitalized
Stimulated
Strengthened
Succeeded
Supervised
Surpassed
Taught
Trained
Transformed
Updated
Upgraded
Waitress waiter CV example
Here you can see and download two real waiter resume samples, that job seekers with and without experience can take as a starting point to craft their best waiter waitress cv yet. Job seekers in the server industry from the UK, Australia, Canada, etc. have became job application pros, getting 4 times more interviews for waiting staff openings, only by following the tips on this guide. In addition to checking these waiter resume examples out, make sure you read and follow the specific tips and examples for each section in your CV.
CV Waiter with experience example
The following waiter/waitress resume example belongs to a professional waiter with extensive experience in the server industry, working different roles in food establishments. With specific education in the hospitality industry.
Download CV Waiter example with experience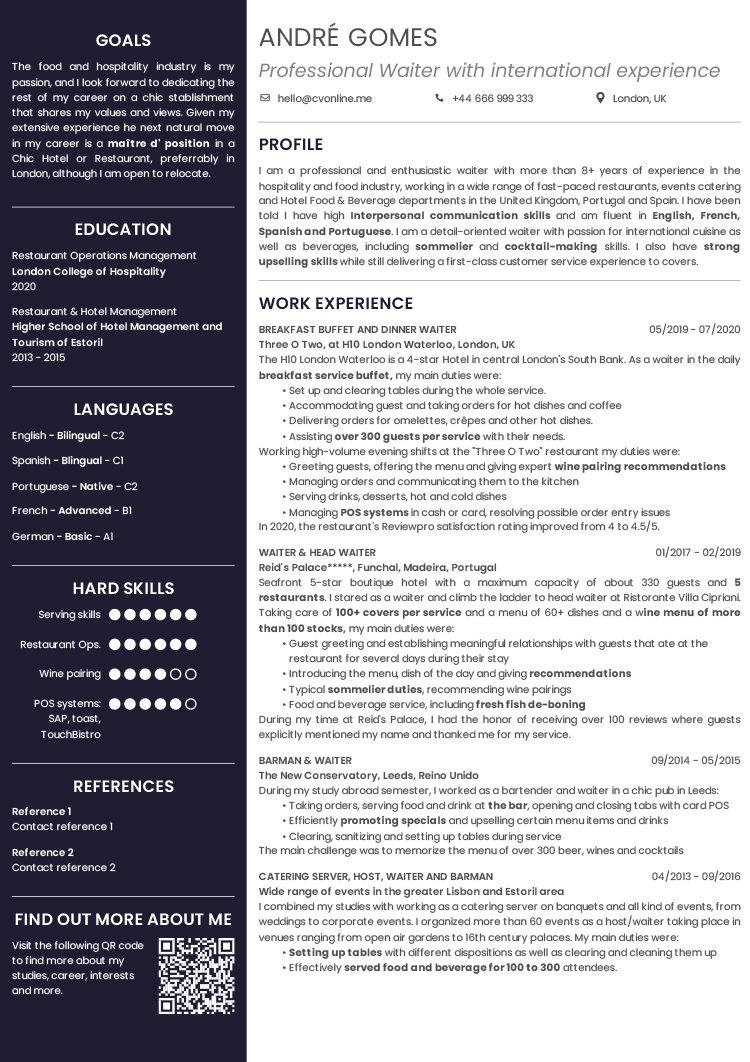 Waitress CV example without experience
The following CV belongs to a waitress with no experience as waiting staff, however, she's got many waitress skills, that she has used to perform job duties in other work experiences outside a restaurant service. So if this is your case, don't hesitate to add previous non-waiting roles that are useful to show-off your excellent customer service skills to the potential employer.
Download CV Waitress example no experience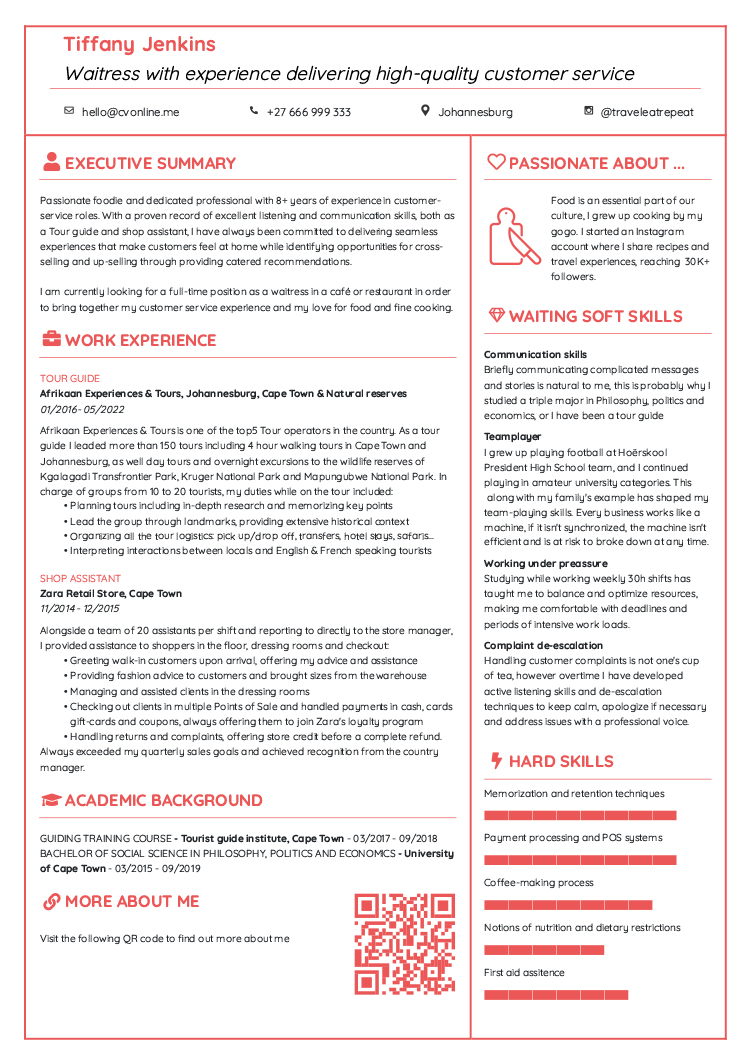 On the contrary, if you are looking for a waitstaff job and don't have any transferable work experiences at all, don't panic: You can skip the "Work Experience" section all together, proving proof of your waitressing skills through other life experiences as well as a "hard skills" and a "core skill set" sections going beyond a simple core skills list, taking the time to describe them with use cases.
Waiter / waitress CV structure
As we mentioned previously, one of the most important traits of a good waitress / waiter CV format is its flexibility, and its ability to divide the information in clear readable blocks or sections with an introductory header to introduce each of them. This will help digest your CV to both humans and machines alike. Here, we cover the most important parts of a good waiter resume sample that achieves the described goal:
Waiter contact information section and CV headline
You can also refer to this section of the CV as the CV header, since it is always placed at the top of your CV. It should include the following elements:
Your name and surname. Don't use nicknames or abbreviations, include your birth name, or if you have transitioned, include the official name you currently go by of course.
Right below your name and surnames, include a CV headline, a one-line sentence summary that describes you as a professional, always including your desired job title + one of your most impressive skills. Here you can see some examples.
A contact details subsection where you will add your email address and phone number. You can always add more elements like your location/postal address, your personal website, blog or your profile in relevant social media platforms. Don't include any of these if they aren't somehow related with your professional experience.
More and more, the postal address is disappearing from the CV, and candidates only include their location (or desired location where they hope to find a job at) within the contact details subsection. However, it is important to mention that in the case of the hospitality and food service industry, there are cases where you should most definitely include your postal address if you have a place near the workplace and this is an advantage over other candidates. A couple of examples could be a café in the City of London, opening very early in the morning will prefer a waiter/ waitress that lives 2 tube stations away, than someone that has a 1.30h train ride to get there at 6.30 in the morning. The second example is even a more extreme one, where just the fact that your CV includes a local address could get you hired without even having an in-person interview: This is due to a very common situation in many popular tourist destinations, where high-season rents are skyrocketing, making it virtually impossible to find an affordable place to stay for the season while working as a waiter waitress or other customer service frontline staff. In this case, including a local address (you don't have to own it, you don't even have to be the tenant, as long as you have permission to crash in the place is enough for you to list it on your CV as your address) will give you an extreme advantage, since customer service industry businesses are literally struggling to find any candidates.
Waitress / waiter CV headline examples
Food-runner and hospitality management graduate
Experienced bartender in high-volume dining establishments
Head Waiter with 15+ years experience in fine dining
Maître d'hôtel with 5 years of experience
Waitress with experience in high-volume dining establishments
Waiter with outstanding customer service skills
Captain waitress with sommelier training and experience
Food-runner
Bartender
Head Waiter
Maître d'hôtel
Waitress
Waiter
Captain waitress
Summary or Personal Statement: The Waitress CV entrées
A waiter CV summary or profile should always be the first section of your CV, right below the CV header. This section should be a profile summary of your career and the skills that make you a great waiter waitress. Focus on what moves you in providing excellent customer service while processing customer orders efficiently.
Use the profile summary section to match some of your skills with requirements in job descriptions, for example, if they need a waitress with experience operating espresso machines and fluent in English and Spanish, and you are a bilingual waitress that have been operating an espresso machine for years, you should definitely mention this within your personal statement or profile summary section.
You can include a sentence resume objective to conclude your profile summary, in order to align your upcoming career goal with the job or jobs at hand.
Summary for waiter CV examples
Personal Statement
I am a bilingual professional waitress, fluent in English and Spanish, with 4 years experience in 2 cafeterias located in the City of London. I excel at taking customer orders, brewing coffee with espresso machines, food handling procedures and handling customer payments using different point of sale systems like toast or SAP.
Furthermore, I have excellent communication / active listening skills and pay close attention to details, striving to find out customer preferences, delivering high quality services always with a big smile.
Personal Statement
I am a professional Waitress, and I am committed to delivering the highest quality service in everything I do. Committed to ensure customer satisfaction.
Work Experience Section: The main course for waitresses with experience
Hiring managers looking to fill waitstaff jobs, look at this section to see what previous roles qualify you to fill the position at their establishment. Therefore, it is worthwhile to pay close attention to this CV section.
It is important to mention that the Work experience section isn't a complete list including each one of the jobs you have previously had. Include only a maximum of 5 or 6 relevant serving positions you've held, and sort them in reverse chronological order, with the most recent role on top.
More waiters than you think make the common mistake of adding a simple list of their roles without describing them at all. This is a massive mistake, here are the elements you shouldn't miss when adding each job to your career history:
The role or position you occupied
The establishment or company you worked for as well as their location
The dates you worked there, preferably using a Month/Year format
A Stunning role description is the key to a valuable work experience CV section. Here is the recommended structure for role description:

One short paragraph introducing the company and team you worked with, providing some context
A short list with the role's most important job duties, focus on those relevant for the position you are applying to
Wrap it up with your biggest achievements in the role
Use as many relevant numbers you can in role descriptions in order to prove your skills and demonstrate your achievements. For example, by providing the number of covers you would serve per shift, is a much more valuable way to say that you are used to working under pressure.
As we mentioned in the waitress CV example, it is still possible to have a great waitress or waiter CV even without explicit waiting experience. Candidates with experience in other industries, should add their experiences, focusing on the skills that are transferable to desired waiter CV skills. For instance, essential customer service skills that every waitress/waiter should hold are: strong communication skills, being a team player, the ability to work under stressful conditions or active listening skills along a problem-solving approach.
Candidates with no experience at all, should then prove these skills in other resume sections like a core skills list section, a volunteer experiences section or a 3 paragraph profile summary section.
See CV waitress example no experience
Waiter CV role description example
01/2017 - 02/2019
WAITER & HEAD WAITER | Reid's Palace*****, Funchal, Madeira, Portugal
Seafront 5-star boutique hotel with a maximum capacity of about 330 guests and 5 restaurants. I stared as a waiter and climb the ladder to head waiter at Ristorante Villa Cipriani. Taking care of 100+ covers per service and a menu of 60+ dishes and a wine menu of more than 100 stocks, my main duties were:
Guest greeting and establishing meaningful relationships with guests that ate at the restaurant for several days during their stay
Introducing the menu, dish of the day and giving recommendations and taking orders
Typical sommelier duties, recommending wine pairings
Food and beverage service, including fresh fish de-boning
Constant check ins to ensure customer satisfaction and avoid complaints
During my time at Reid's Palace, I had the honor of receiving over 100 reviews where guests explicitly mentioned my name and thanked me for my service.
01/2017 - 02/2019
WAITER & HEAD WAITER | Reid's Palace*****, Funchal, Madeira, Portugal
Key Responsabilities:
Greeting guest and accommodating them
Menu deliver
Taking customer orders
Delivering orders
Providing wine pairing recommendations
Other food handling procedures
How to include your waiting skills in the CV
After reviewing hundreds of waiter waitress CVs, we came to the conclusion that it isn't easy for candidates to include their waiting skills in their CV.
As a general rule, try to always show off your skills within your role descriptions, job duties and profile summary for waiter CV. This is true specially when it comes to soft skills such as communication or problem-solving skills, since these skills shouldn't just be listed in your CV and should instead be added with real live cases.
The only case in which you can list your soft skills is if you don't have related work experience, in this case you should add a brief description to each of them.
Instead, you can, include one or more hard skill sections listing hard skill sets. But this doesn't mean you shouldn't as well try your best to include use cases of every given hard skill.
Skills sections example:
HARD SKILLS
Serving skills
Restaurant industry operations
Wine spairing
Cooking techniques and food safety
Restaurant point-of-sale systems
SOFT SKILLS
Communication skills

Briefly communicating complicated messages and stories is natural to me, this is probably why I studied a triple major in Philosophy, politics and economics, or I have been a tour guide.

Teamplayer

I grew up playing football at Hoërskool President High School team, and I continued playing in amateur university categories. This   along with my family's example has shaped my team-playing skills. Every business works like a machine, if it isn't synchronized, the machine isn't efficient and is at risk to broke down at any time.

Working under preassure

Studying while working weekly 30h shifts has taught me to balance and optimize resources, making me comfortable with deadlines and periods of intensive work loads.

Complaint de-escalation

Handling customer complaints is not one's cup of tea, however overtime I have developed active listening skills and de-escalation techniques to keep calm, apologize if necessary and address issues with a professional voice.
RESTAURANT INDUSTRY SKILLS
Cooking techniques and food safety
Serving skills
Restaurant operations
Wine spairing
Fine dining skills
Teamplayer
Communication skills
Stress tolerance
Problem solving
Should you include education in a waiter / waitress CV?
Even though you don't need formal education to land most restaurant jobs, you should always include your highest degree you have in your CV. Here is a decision tree with different scenarios, to decide which education / degrees you should include in your "Formal Education" CV section:
If you hold a university degree, or masters, include them both, and avoid including any other previous education.
If you attended university but didn't finish it, include it without a graduation date, instead you can specify how many courses did you do. Include your A-Levels, GCS Es or similar higher education certificates. No need to add your high school diploma.
If you only hold A-Levels, GCSEs or similar, include them along with your High school diploma.
If the highest degree you obtained is the high school diploma, include just the high school diploma.
If you didn't graduate from high school, then skip the education section.
In order to include your formal education, follow this structure for each degree you add:
Starting and graduation dates
Degree name / Major
Institution
GPA, Honors and any courses or projects relevant to the position you are applying to (Optional)
Other relevant sections for a waiter / waitress CV
Each candidate has a different story to tell, therefore there isn't a set of sections that fits all, and that's why you want to choose a CV template that lets you add as many sections as you need to properly tell your story and show your full potential as a waitress / waiter. Useful sections, specially for candidates without experience, are:
Skills summary
Interests & hobbies
Community charities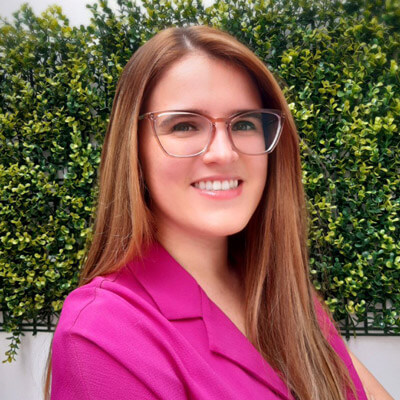 Coach & recruiter @kaelon.co and co-founder @cvonline.me