Editing header elements on a PDF CV
All PDF CV templates allow users to customize their headers content while maintaig its visual coherence.
In every template there is a maximum of 5 templates
Editable fields
The image can be edited on every CV, meaning you can have different images for every other version of your CV if you'd like to.
The CV headline is a field where you can add your unique CV one liner. You can find more info. about how to craft the perfect CV headline here.
The Element 1 is a field where you can add the content of your choice, in the event of templates with icons, you can also personalize the icon that introduces.
The Element 2 is another free field where you can add whichever information you consider more relevant on your CV, along with an icon of your choice, on those templates with an icons.
Fields that don't allow edition
The email cannot be edited nor hidden from appearing on your CV. the reason is that cvonline.me accounts have been designed to be used by a single user. If for some reason you need to modify your account's email please email us at hello@cvonline.me telling us why.
The phone number field on the other hand, can be edited, but the purpose of this field can't really be changed, specially on templates with icons on the header elements, since the phone icon can't be modified.
Wrapping it up there are 2 available actions for header elements:
Below you can see how to perform these 3 actions:
How to enable or disable header elements
All CV's header elements can be enabled or disabled. Here you can see how:
On the PDF CV editor right hand menu, click on "Manage header elements"
This will unfold a list with 5 elements will appear:

When the "swith" turns green means that the element is currently enabled in the CV, when it turns grey on the other hand, means that the element is disabled and so it is not appearing in the CV at the moment.
Use the "switches" next to the elements to enable or disable header elements on your PDF CV.
Editing header elements content
In order to edit the header elements content, simply:
First, make sure the field you want to edit has been enabled
On the PDF CV preview, click on the field you need to edit and make the necessary changes:
In order to change the CV picture, follow these instructions. You can set different images for each CV if you want to, this comes in handy if you create different versions of your CV and want to use different images in each of them.
Editing header elements icons
"Element 1" and "Element 2" can be used for different purposes, therefore they can be used with differen purposes, to do so, templates with icons allow you to pick them from a wide range of icons.
In order to do so, simply click on top of the existing icon and a window will pop up to select a new icon and confirm it by clicking on SELECT ION as you can see here: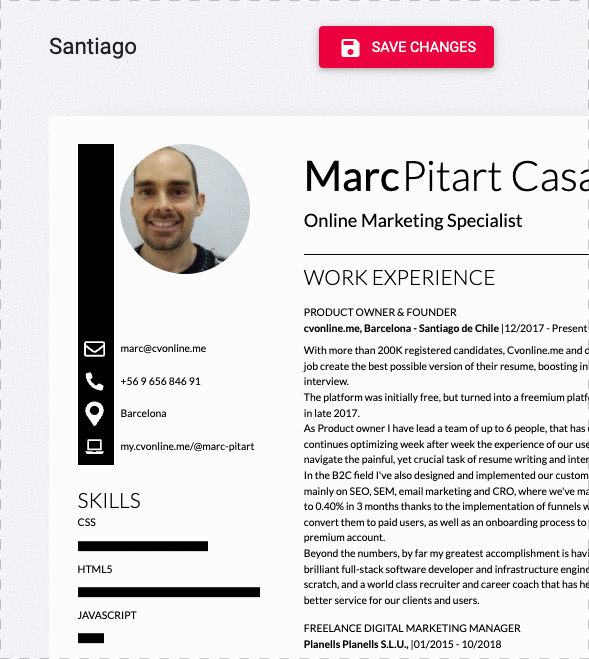 If you can't find the icon you need, do not hesitate to let us know at hello@cvonline.me and we will try our best to include it.